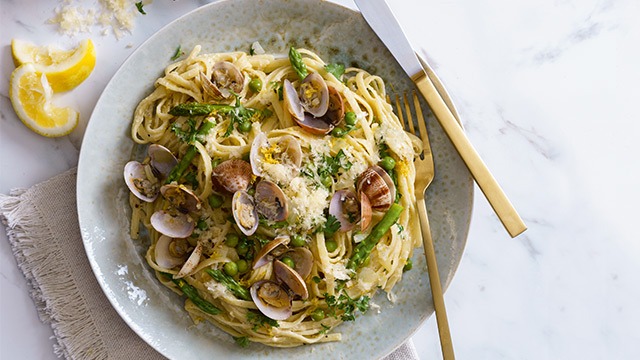 There's a reason why pasta recipes are so loved. These bowls of boiled dough tossed in your favorite pasta sauce are homey, comforting, and downright satisfying. If there was a contender for a rice substitute, pasta would be one of the top three. 
There are so many ways to make pasta dishes. There are numerous shapes and sizes of pasta! Just as many kinds are the pasta sauces you can choose from. From the basic (and easy-to-cook) three-ingredient garlic oil pasta recipe to the complex flavors extracted from the long cooking to make the Bolognese pasta sauce that we think is best tossed with pasta shells, pasta dishes can be made in many different ways that all result in a super delicious and fulfilling meal. 
Learn all you need to know to make the best pasta dish you will ever make with this easy guide to cooking this Italian staple: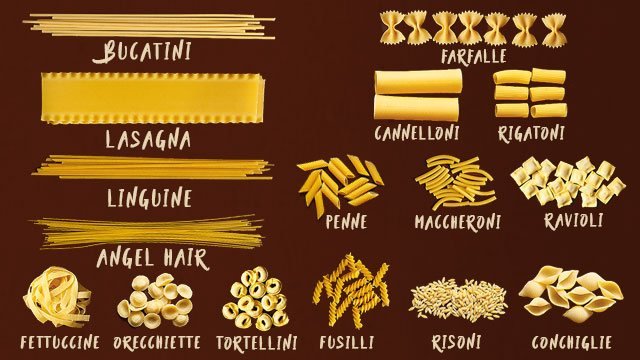 1 Know your pasta. 
There are many, many shapes and sizes of pasta. You have the noodles that range from the thin round strings of angel hair pasta to the thick ribbons of the pappardelle. Pasta shapes also cover a wide range of shapes. There are cylindrical pasta shapes include the large cannelloni and the smaller C-shaped macaroni while the shapes range from strands formed into shapes such as the twisted fusili and farfalle to the hand-formed orecchiette, the stuffed tortellini and ravioli. 
There are even more but the main point here about knowing your pasta is about expanding your pasta knowledge. Don't be limited to spaghetti and macaroni only. The great thing about knowing all these pasta shapes is the fact that each shape has a function regarding the sauce you will toss with it. 
Once you know what pasta shape is perfect with the sauce you want, you can start on a recipe.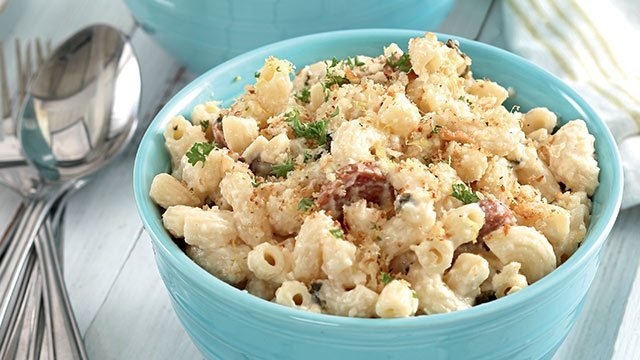 2 Pair your pasta to your pasta sauce. 
When it comes to pasta sauces, it's just as numerous and varied as the kinds of pasta. You can have a simple oil-based pasta sauce or a complex tomato sauce that marries all its flavors over long cooking process and time. However, this is where you have to make a decision that needs to be a good pairing. The shape of the pasta is important because if you choose a pasta that allows the sauce to just fall off it, you won't get a good bite. 
ADVERTISEMENT - CONTINUE READING BELOW
Recommended Videos
That's why pairing your pasta with the right pasta sauce is crucial to your meal. For thick sauces, choose pasta that can help the sauce stick such as rigatoni or simple spaghetti. For thin sauces, choose pasta that is just a delicate like angel hair or pasta that can "scoop" it in its shape like orecchiette.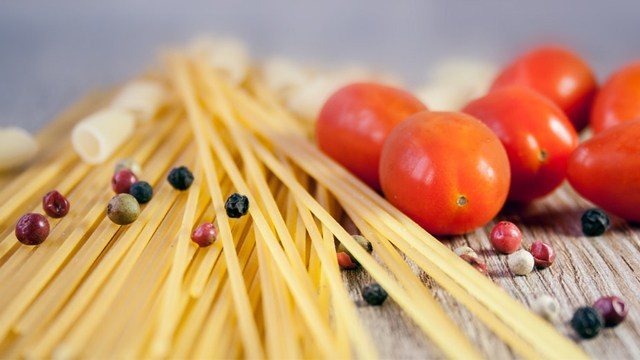 3 Boil enough water. 
Now that you have chosen your pasta, time to cook it. Remember to use a big pot with at least enough water to cover the pasta once it's in. You can actually cook pasta in less water as per J. Kenji-Lopez Alt proved in his The Food Lab article on Serious Eats than previously thought you needed but you still need water. 
In either case, make sure the pot can hold the pasta and the water you're cooking it in.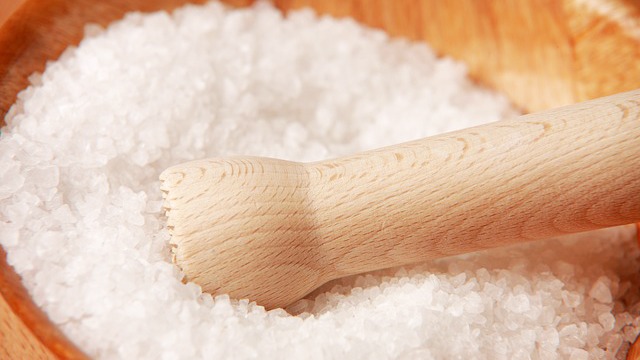 4 Salt it well. 
Whether you're cooking it in just enough water or more than you need, you need to salt the water. Add the salt, which should be enough that you can say it's salty if you taste it, when the water has come to a boil so you don't drop the water's temperature abruptly. Salt raises the boiling point of water so you're actually boiling the pasta at a higher temperature than normal.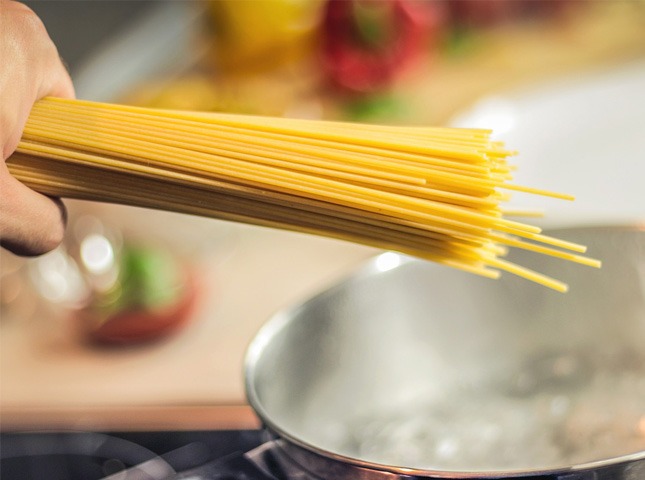 9 Secrets to Cooking Pasta Like a Pro
Posted in:
Cooking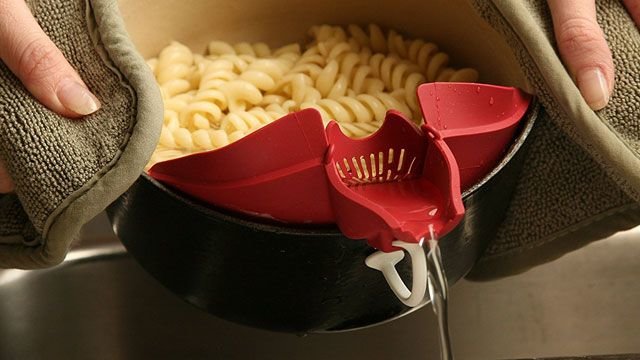 5 Keep an eye on the timer and reserve some pasta water. 
Pasta comes in all shapes and sizes so it's important to look to the package to see how long you need to at most cook your pasta. If you like it al dente, or with a bite, minus 2 to 3 minutes from the time the package claims it cooks in. 
Once you've cooked your pasta to your desired doneness, drain the water but reserve some pasta water. You might or not need it later. Best to be safe than sorry.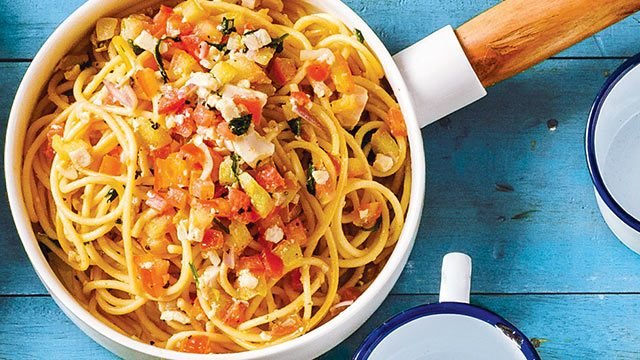 6 Toss the sauce and the pasta together.  
While the pasta is cooking, make or heat up your pasta sauce. You'll need to be ready when the pasta is done so you can immediately toss it together. Hot pasta sauce and hot pasta is the best way to make that pasta sauce stick to your pasta. That's how the Italians do it, and so should you.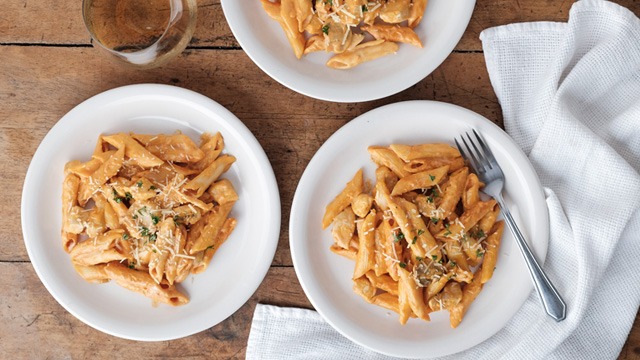 7 Serve it while still hot. 
Unless it's a pasta salad, you want to serve this bowl of freshly cooked pasta immediately. It really is best while it's hot so don't delay and serve it as soon as it's tossed together. 
You can definitely satisfy your love for pasta any time with near-perfect results every time with these tips in mind.  
ALSO READ: