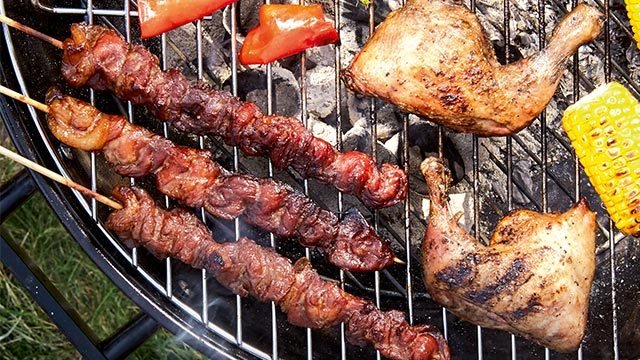 If you love Pinoy barbecue, there are a few tips and tricks you may not know yet but we think it's always worth a look over just in case there is one that you may have missed out. 
Here are our best tips for making the best Pinoy barbecue: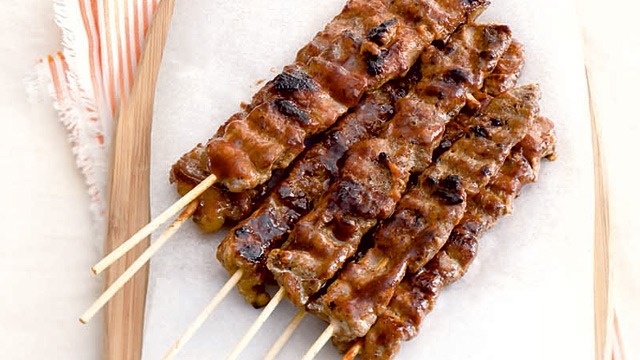 1 Slice the pork thinly, then cut it into bite-sized pieces. 
You can ask your local butcher to help you out and save you time by doing this task for you. You can use any cut of pork – kasim or pigue are popular pork cuts for barbecue. What's important is that the pork is sliced thinly then cut to size for skewering. This means each piece should basically be rectangular-sized pieces around 1/8-inch thick.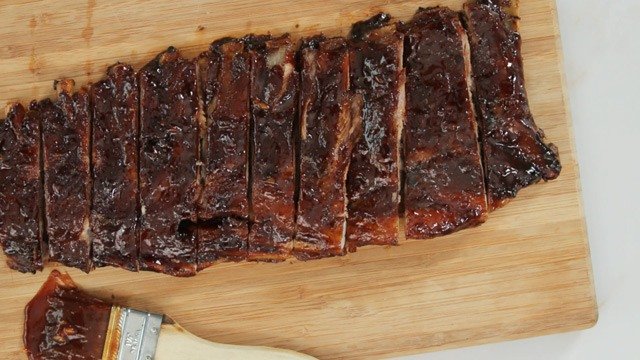 2 Use classic Pinoy ingredients for the marinade. 
It may be interesting to try a barbecue infused with rosemary or even spiced version with a hint of cumin in the marinade. However, we still believe the best marinade for the Pinoy-style barbecue really contains the classic ingredients that made it famous and so well loved. After all, there is a reason why it's so delicious, and a classic recipe usually doesn't need much tweaking to make it any better.  
All you really need are ingredients you most probably already have in store in your kitchen or at the least, your local sari-sari store might have available: soy sauce, brown sugar, calamansi, garlic, a lemon-lime soda, and banana ketchup.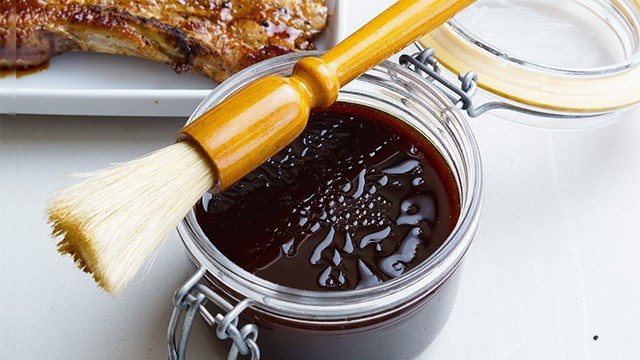 3 Taste the marinade, and then trust your instincts. 
You may be wondering why we would provide a recipe only to tell you later to ignore the recipe and go with what your gut—or your taste buds—tells you. There is only so much sweetness someone may like or perhaps you think it needs more tang from a little more calamansi or the lemon-lime soda. 
The idea here is to make sure that no matter what the recipe says, it will taste good to you. How do you do this without the barbecue prepared? Take a spoonful of the marinade mixture and if you have a microwave, place in a microwave-safe container, cover lightly, and then cook it for about 10 to 20 seconds on High. This will "cook and reduce" it until it's slightly thickened. Let it cool before tasting so you can taste what it will taste like once it's been on the grill. Adjust accordingly then pour that marinade over the prepared pork pieces once you're happy with the flavor.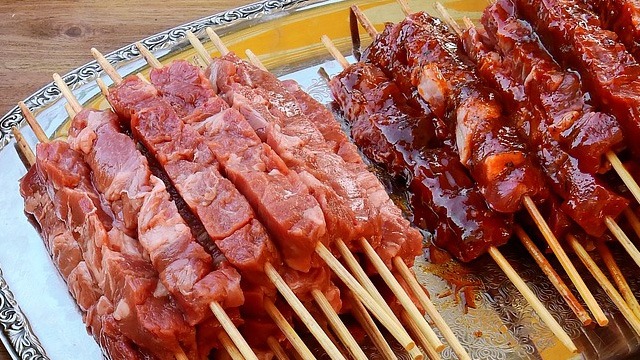 4 Marinate overnight—but not too much longer. 
There is a false belief that the longer something marinates, the better. That's not true, especially if there are acidic ingredients in the marinade. Acidic ingredients such as citrus juices, vinegar, and even pineapples are known to tenderize meats. It can actually "cook" meat with how powerful the acids are in these ingredients. While this property ensures tough meats are more tender, it can also lead to your meats becoming too tender to the point of being mushy.
If you've ever had meats that had a grainy texture or seen the surface of marinaded meats begin to disintegrate, it's probably because it's been over marinated. 
Plus, these meats will not only have a too-chewy texture, but these meats might also have absorbed too much of the marinade, becoming too salty, sweet, and otherwise not the flavor you were going for.  
ADVERTISEMENT - CONTINUE READING BELOW
Recommended Videos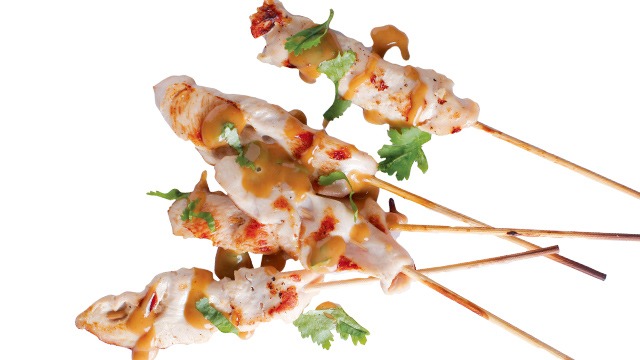 5 Soak the bamboo skewers overnight, too. 
While the pork is marinating, remember to soak the bamboo skewers, too. While there are theories which contest the value of soaking skewers, we have been doing it for years and believe it's better safe than sorry.
These pieces of wood can char, burn, and then break off as the pork in it grills. Soaking the bamboo skewers means that the exposed parts of the skewers are less likely to catch on fire and burn off. Take the precaution, and soak your bamboo skewers in water.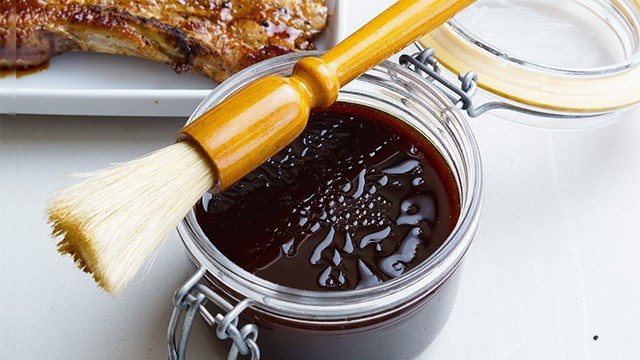 6 Baste it last.  
Once your skewers are ready and its time to grill, it's a good idea to not baste it as soon as its on the grill. Wait. You'll want the pork to be in the last few minutes of cooking before grabbing that brush and basting the sticks with your barbecue sauce. 
Why? The sugars and other ingredients in the barbecue sauce you made will just char and burn when cooked for too long. Plus, you want a nice glistening layer of the sauce on your pork barbecue, not a blackened stick with more burnt chunks than perfectly-basted pork. 
Crazy craving for barbecue? Don't worry since we have some of the best recipes for barbecue: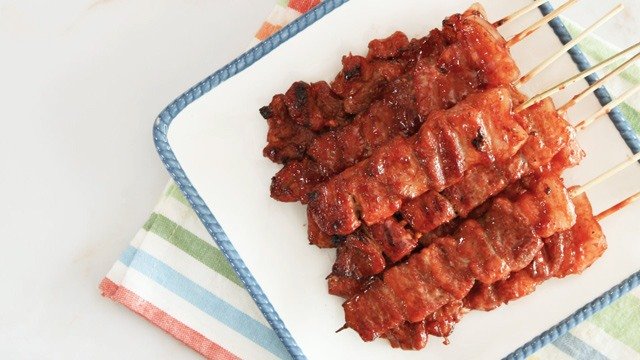 1 Pinoy-style Barbecue Recipe 
You can't deny that the classic recipe is still as well loved and as delicious as you remember. It's sweet, tangy, and sticky. You'll be licking your lips with every bite from the skewer.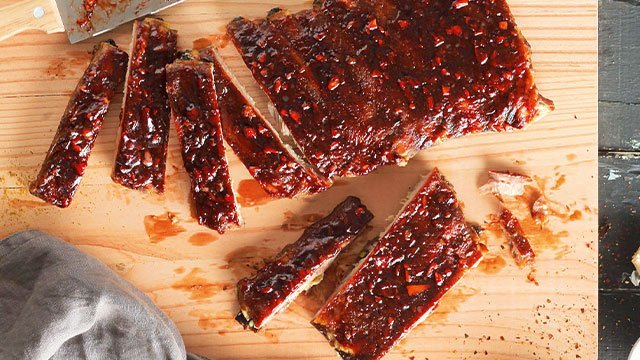 2 Filipino-Style Pork Ribs Recipe 
When you see the words "Filipino-style" in any recipe, you know it's going to be the type of recipe that is a delicious mix of sweet, sour-tangy, and always delicious. Here, the barbecue sauce is made of a simple banana ketchup mix that's slathered on to American-cut ribs. It's a fantastic and appetizing fusion of Filipino and American into one great recipe.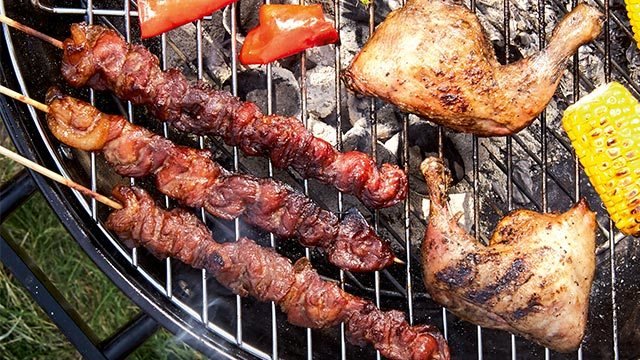 3 Chicken and Pork Barbecue Recipe 
There are many simple recipes for barbecue, and this is one of them. A simply seasoned marinade, plus a unique ground spice to make it different, is all that's needed to help the meats become more flavorful before being grilled and basted. Even the basting mixture is a simple mix of banana ketchup, soy sauce, and sugar. The results are simply delicious.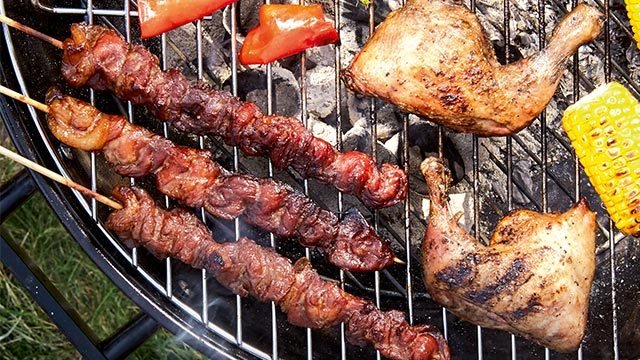 Chicken and Pork Barbecue Recipe
Posted in:
Recipe
Want even more barbecue recipes? Here you go: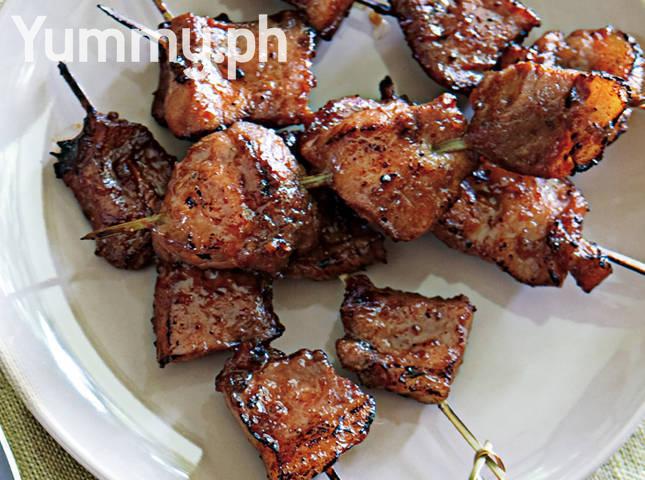 Pork Barbecue
Posted in:
Recipe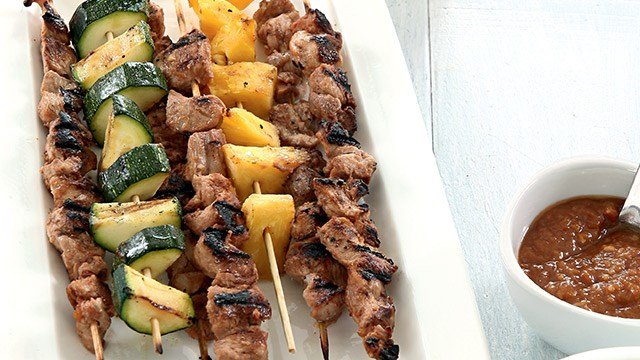 Pineapple Pork Barbecue Recipe
Posted in:
Recipe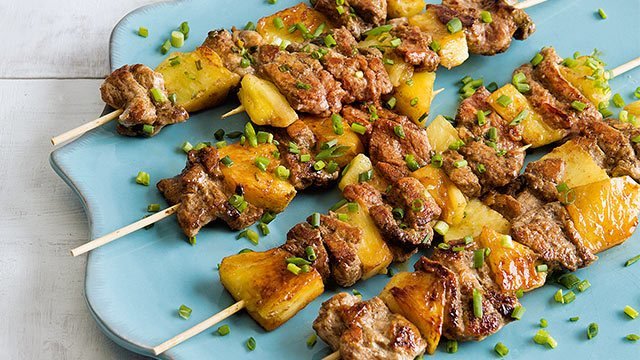 Five-Spice Pork Barbecue Recipe
Posted in:
Recipe