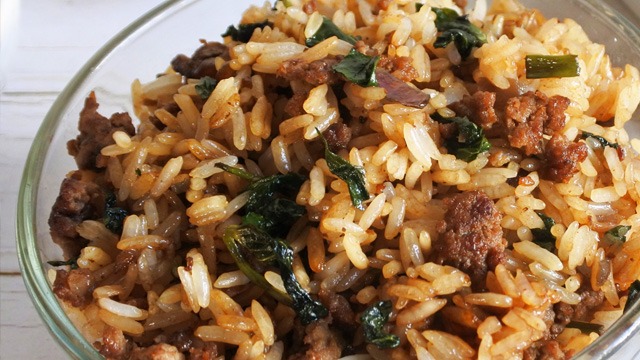 Are you a fan of fried rice meals? If so, you have probably ordered this before: the pork chao fan. It's a simple yet tasty fried rice that's got a little of both kangkong and ground pork for extra flavor.
It's an easy recipe! This inspired fried rice recipe is made super tasty with ground pork and kangkong, plus oyster sauce for extra umami flavor. You can even level it up with some scrambled eggs or chunks of Chinese sausage for a heartier all-in-one fried rice meal. No need for siomai on top unless you want some.
You can also serve this with more kangkong, simply steamed or sautéed with sesame oil and chili powder, fried tokwa, and some fried luncheon meat cubes on a stick for that resto dining experience at home.  
Want to try our version of this easy fried rice recipe? Here it is: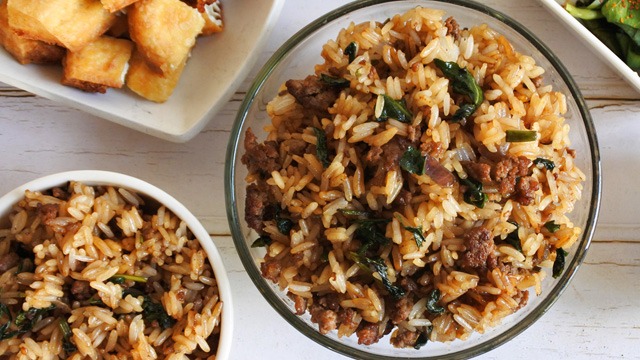 Chowking-Style Pork Chao Fan Rice Recipe  
Takes 15 minutes
Makes 6 servings 
1 tablespoon oil 
1 small red onion, peeled, chopped 
2 cloves garlic, peeled, chopped 
1 cup ground pork, about 227 grams
2 tablespoons soy sauce, divided 
1 cup kangkong (water spinach), leaves and tender stems only, chopped 
4 cups day-old rice, packed and crumbled  
1 tablespoon oyster sauce 
1 Heat oil in a large wok or large nonstick frying pan over medium heat. 
2 Add onion and sauté until softened. Add garlic and cook until aromatic. Add ground pork and sear until no longer pink. 
3 Add 1 tablespoon soy sauce to the pork, and stir to combine. Add kangkong and cook until greens turn a bright green. 
4 Add rice and toss to combine with the pork mixture. Drizzle in remaining soy sauce and oyster sauce. Toss until well mixed. Serve while hot. 
***
Thinking about what to cook next? Join our Facebook group, Yummy Pinoy Cooking Club, to get more recipe ideas, share your own dishes, and find out what the rest of the community are making and eating!
Got your own version of the classic dishes? Pa-share naman! Get your recipe published on Yummy.ph by submitting your recipe here.