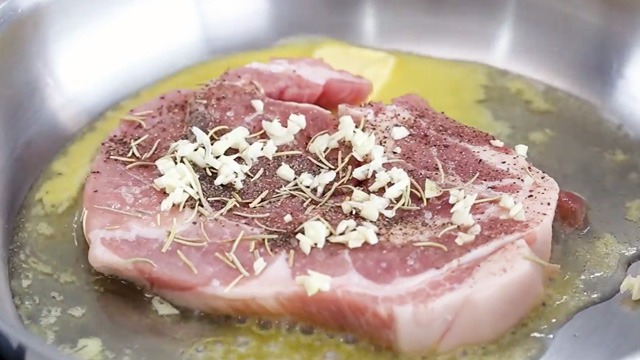 Steak is one of those dishes where your expectations are high. The meat has to be cooked just right for it to be the most satisfying meal! It's one of the easiest but also one of the most intimidating of all meats to cook for a home cook. What better way to overcome that fear than by using a pork chop or a pork steak to master the technique? 
You can cook better pork chops with these frying tips. 
Treat your pork chops like you would a steak and you will end up with one of the best tasting pork chops. Here's what you do: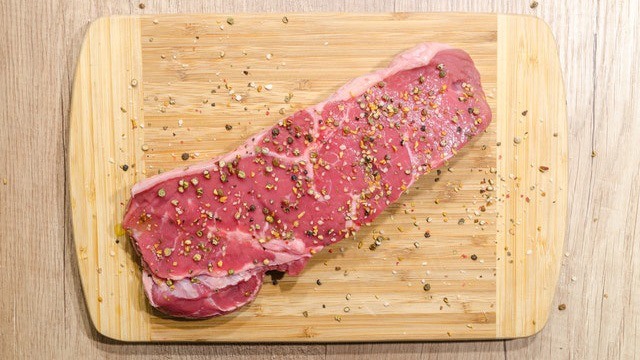 1 Season your meat well. 
Just like any cut of meat, you have to season your meat well. At the most basic, it needs to have salt. Sprinkle on the ground pepper and other herbs and spices (Garlic! Rosemary! Mustard!) you like as well but the real trick here is how to do it right. 
Salt is a natural flavor enhancer and to do its job right, it needs to be added to a degree that it can be tasty without overpowering the other flavors that accompany it. This is where your taste buds come in since everyone has a different level of saltiness that they prefer and like. 
As a basic measurement, use around 1/2 to 1 teaspoon salt per pork chop. You can adjust this, more or less, once you learn how you like your meat seasoned.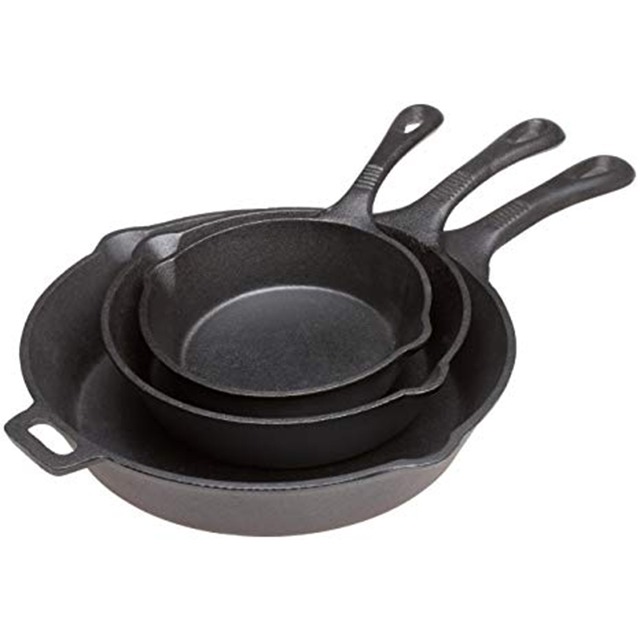 2 Heat your pan until smoky.  
The secret to a beautiful and super tasty pork chop is the sear. If you can recall, the browned bits are the most flavorful parts! That's why it's important to make sure that even before you start frying, your pan has be hot enough to create that seared crust on the outside. 
Place your pan on the stove and get it hot enough that the oil starts to shimmer when added before you place your meat on the hot surface of the pan.  
ADVERTISEMENT - CONTINUE READING BELOW
Recommended Videos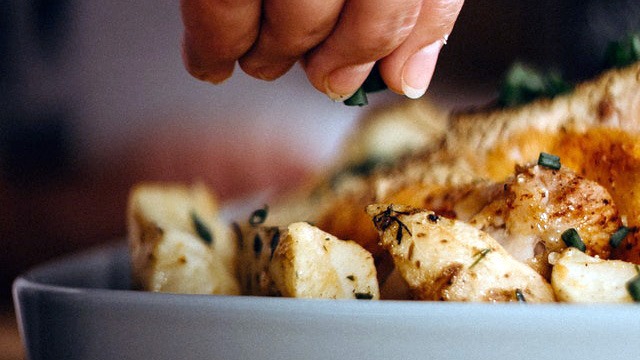 Bad Cooking Habits You Shouldn't Learn
Posted in:
Cooking
5 Bad Cooking Habits You Need To Break
Posted in:
Cooking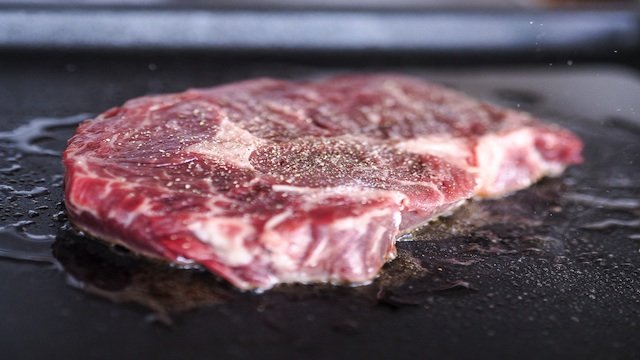 3 Sear both sides. 
This is where idle time comes in. You will have to allow the meat to sear, on both sides, before you can proceed to the next step. To do this right, leave the meat alone for a good 30 seconds before checking if the meat doesn't stick and can be released from the pan. Check as well if it has browned to your desired golden brown color. If not, let it sear for longer until it is then flip and do it again on this side.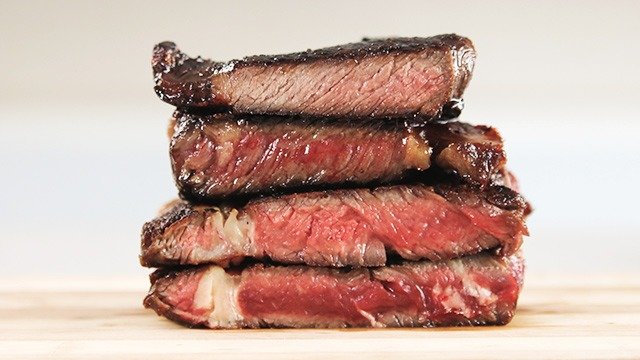 What Is Reverse Searing?
Posted in:
Cooking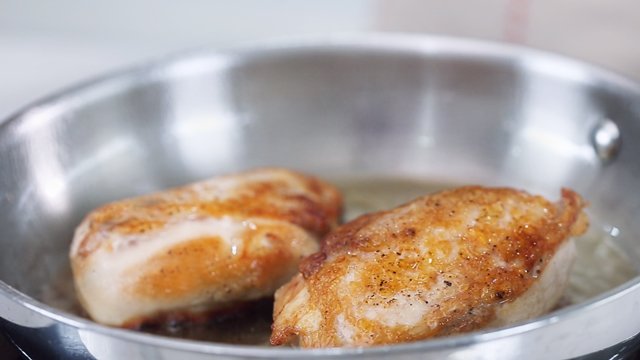 WATCH: How to Pan Sear Perfectly
Posted in:
Cooking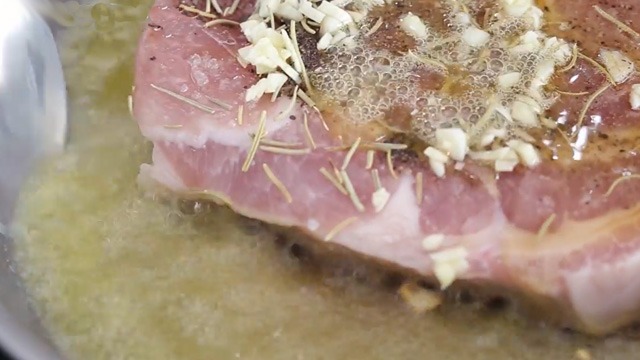 4 Add butter then baste!  
Here is where we take a page from the steak cooking tips book: add butter and then baste. You don't need a lot of butter but you will need at least one tablespoon to add to the pan. That's because you need to melt and then spoon the melted butter all over the pork.
To do this effectively, tilt the pan on its side just enough to allow the butter-oil mixture to pool. Then, using a spoon, scoop it up and pour it over the still sizzling pork chop. Do this a number of times until you're sure that the pork is well drenched in the butter mixture.
Take the pork chop off the heat onto a platter once you're done, pour out the butter mixture into a bowl, and then cook another pork chop. You can use the butter mixture again instead of another pat of butter until it's all gone. Add more butter as needed. (Removing the butter mixture from the pan prevents the butter from burning before the pork can cook on both sides.)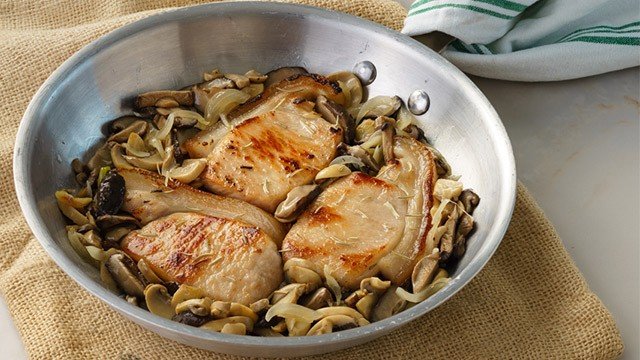 5 Let meat rest. 
Just like any meat, let your pork chop rest before slicing into it and you'll have a wonderfully tender and juicy pork chop meal to look forward to. 
Need more advice on how to cook pork chops better? 
ALSO READ: