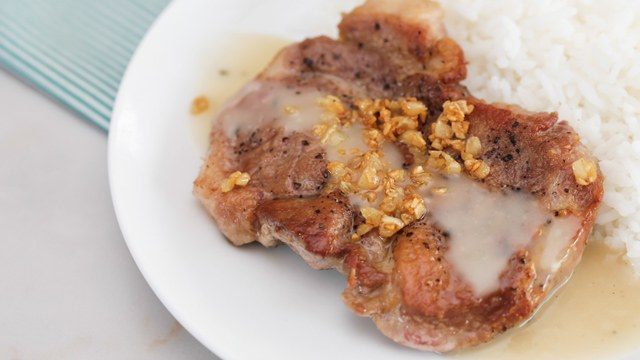 Anyone who loves pork chops knows that this is a popular pork cut at the butcher shop. The pork chop is a lean and meaty slice of pork with a layer of fat. For many, this is the perfect ratio of meat to fat. 
However, there is a pork cut that is terribly underrated: the pork steak. This cut, also known as the blade steak or pork blade cut, is from the bonier part of the pork pigue (pork shoulder or pork butt) and is characterized by a sliver of bone through the fatty layers of meat and fat. This can be a tougher cut of meat but since you can treat it as a steak, it can be just as tender as a pork chop, and can be simmered and braised until tender just as long as the rest of the pork cut.  
This is a tender, juicy, and flavorful pork cut, too, that's a contender for the fan favorite, the pork chop. 
If you're looking for a cut that's available when the pork chop isn't, this is a great pork cut choice, too. What you have to remember when cooking pork steak is to treat it like a steak. Since this particular meat cut has connective tissue and fatty layers separating the meaty parts, it's a great cut to cook like steak as well as to cook for longer cooking methods such as stews and braises since these will break down.  
If you have a kilo of this pork cut, here's how to make sure that you are cooking your pork steak as perfectly as you can every time: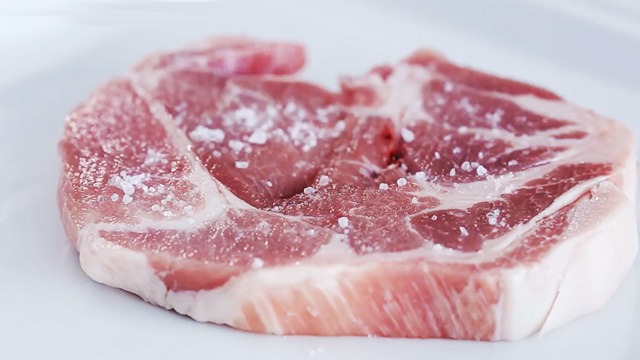 1 Season generously before cooking. 
Whenever you see chefs on your favorite cooking shows seasoning steaks, using the salt as if it were glitter, then you should understand this step. Seasoning your pork steak as well as other meat cuts generously enough to be lightly covered in salt is an important prep. 
While you can season to taste after your porks steak is already cooked, seasoning it beforehand is one of the most flavorful ways of cooking meat. This is because the salt and other seasonings you sprinkle on your meat has the chance to dissolve and coat your meat. This creates a layer of super flavorful juices that you can now use to baste your steak with. 
If you learn that your pork steak needs more salt or seasoning after its been cooked, you can season it some more but if you follow this rule of thumb, we believe that you won't need to do that at all. This applies to a whole pork steak or pork steak that you've cubed to make into a fast pork menudo or pork salpicao that you don't have to season too heavily but still needs to be seasoned anyway.  
ADVERTISEMENT - CONTINUE READING BELOW
Recommended Videos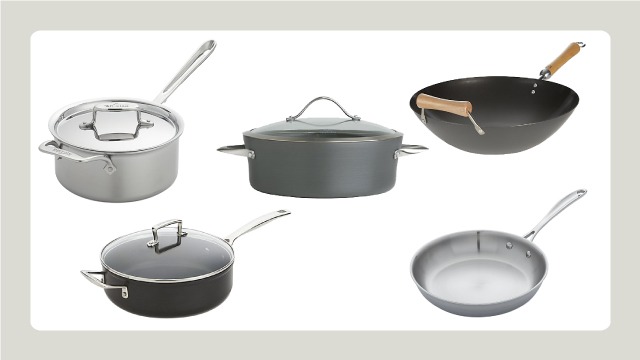 2 Prepare your cookware as well as ingredients. 
Preparing your cookware is just as important as preparing your ingredients before starting your dish. This can be as simple as pulling out your pan from the cabinets, putting it on the stove, and heating it up right before putting that pork steak in the pan.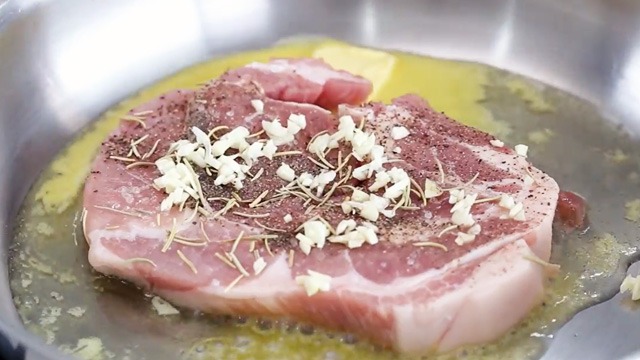 3 Let it sear. 
Just like cooking steaks and other braised meat dishes, you want to allow your pork steak to sear before turning these over and searing the other sides. If cooking cubes, cook in batches as if these were beef cubes to develop the best flavor from these fatty meat cuts.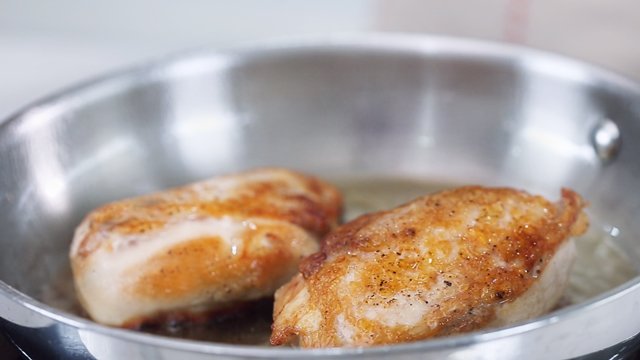 WATCH: How to Pan Sear Perfectly
Posted in:
Cooking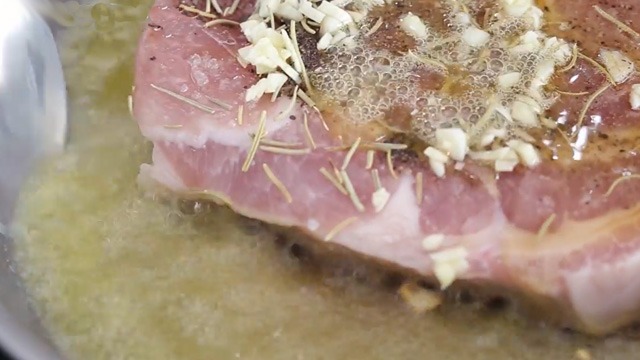 4 Baste it. 
Once seared on both sides, you may want to baste the pork steak with some flavorful ingredients. Melt some butter with the pork steak and add herbs, spices, and other aromatics such as thyme, rosemary, garlic, shallots, and peppercorns, as desired. Then grab a spoon and spoon this melted butter mixture over the pork steak. Baste several times until the steak is cooked through.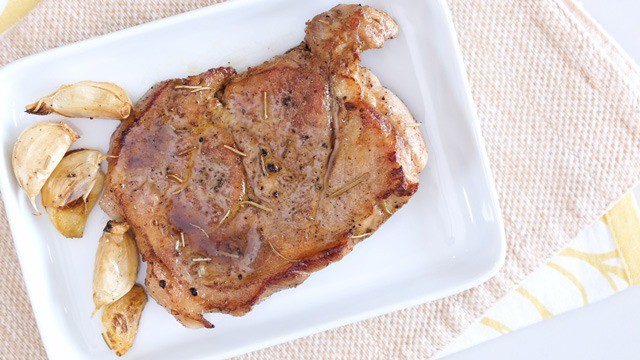 5 Serve it immediately. 
Remember that once your steak is cooked through, it should rest as short as 3 minutes before serving so you slice and bite into the juicy pork. 
Are you interested in making other pork steak recipes now that you know how to cook it right? Try these recipes: 
1 Pork steak Ala Pobre Recipe – This pork steak is made super garlicky for those who are garlic lovers. 
2 Herbed Pork Steak Recipe – Thyme, tarragon, rosemary, and garlic makes this pork steak super flavorful. 
3 Grilled Pork Steak Recipe with Chimichurri Sauce – A simple grilled pork steak with a herby parsley sauce that marries smoky with herby.   
4 Pork Steak in Asparagus-Mustard Sauce – A pork steak becomes super appetizing with an easy mustard sauce made with cream of asparagus soup mix.   
5 Peppered Pork Steak Recipe – The spice black peppercorns accompany the similarly underrated pork cut in this peppery pork meal.  
ALSO READ: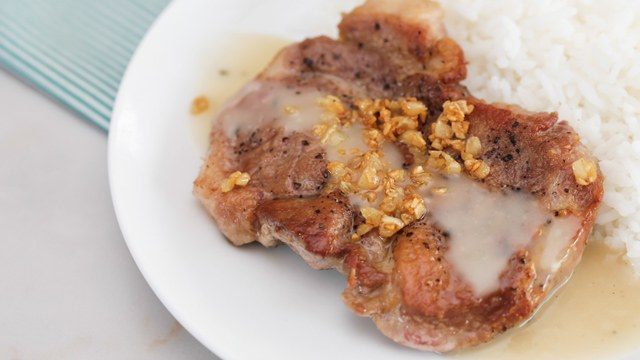 WATCH: How To Make Pork Steak Ala Pobre
Posted in:
Cooking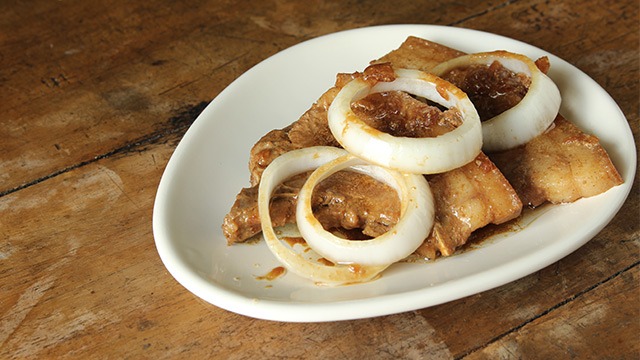 WATCH: How to Make Pork Steak
Posted in:
Cooking
***
Thinking about what to cook next? Join our Facebook group, Yummy Pinoy Cooking Club, to get more recipe ideas, share your own dishes, and find out what the rest of the community are making and eating!
Got your own version of the classic dishes? Pa-share naman! Get your recipe published on Yummy.ph by submitting your recipe here!