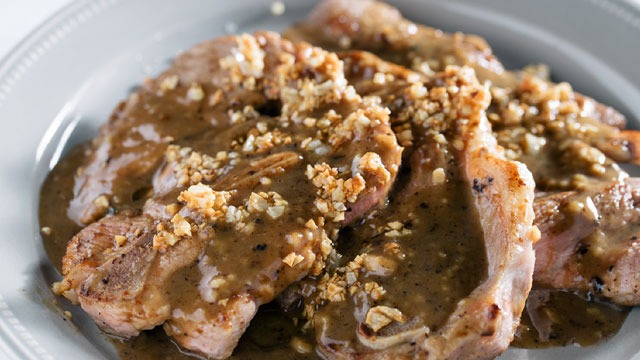 Did you know that there are several kinds of pork chop cuts? One of the tastier, more flavorful cuts is the pork steak cut, also known as the shoulder chop. It's a very fatty cut of dark meat that's connected to a little shoulder blade, making it extra delicious.
It must be noted though, that pork steaks, due to the abundance of connective tissues, can be quite a tough chew. When used, it does best when braised or tenderized before using. 
Another great thing about pork steak? You get the delicious meaty bite of steak without having to pay too much as you would for beef. Here are some pork steak recipes you need to bookmark: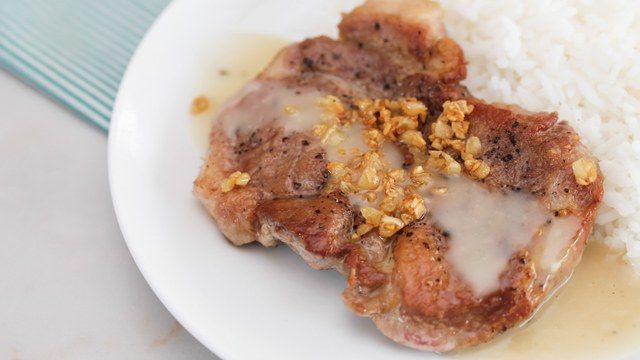 1 Pork Steak Ala Pobre Recipe 
In just an hour, you'll get this delicious, garlicky pork steak with added flavors, thanks to the sauce.
Tip: Wait! Don't slice in yet, and let it rest. This rule applies to all pork steak recipes. A little patience will go a long way. Let your freshly-cooked meat rest for at least 10 minutes and let the meat reabsorb its own juices so that it doesn't all spill out when you slice.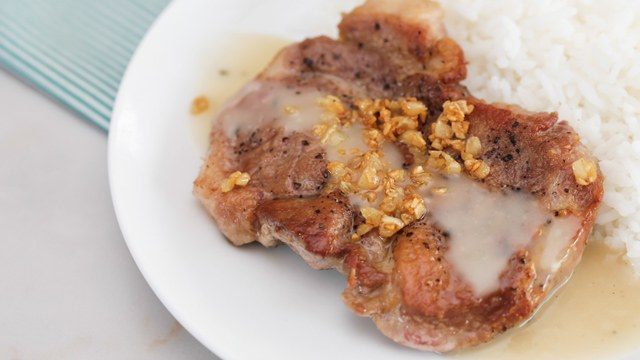 WATCH: How To Make Pork Steak Ala Pobre
Posted in:
Cooking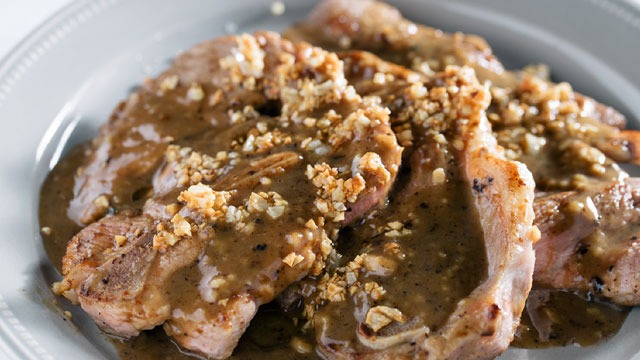 Pork Steak a la Pobre Recipe
Posted in:
Recipe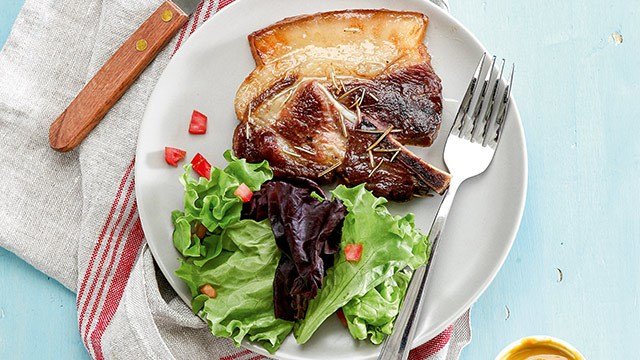 2 Pork Steak Recipe
Treat your pork with the love it deserves. Make its deep flavor shine some more with honey, mustard, and rosemary.
Tip: When buying pork, look for a pinkish-red hue which indicates freshness. The bone should not be dark, and the fat should be white throughout.
Pork Steak Recipe
Posted in:
Recipe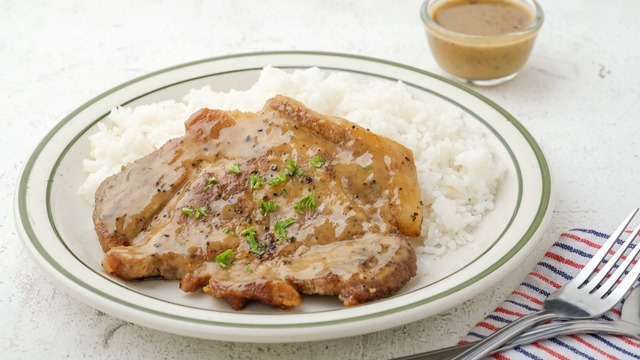 3 Peppered Pork Steak Recipe
Do you love the warm, nutty, and earthy flavor of pepper? Well, we love it too, especially when complementing the pork.
Tip: Want the best piece of pork ever? Don't freeze it! Cook it as soon as you buy it from the wet market. If you're buying it from the grocery, make sure it wasn't frozen beforehand. Freezing draws out liquid from pork which can lead to a tougher chew.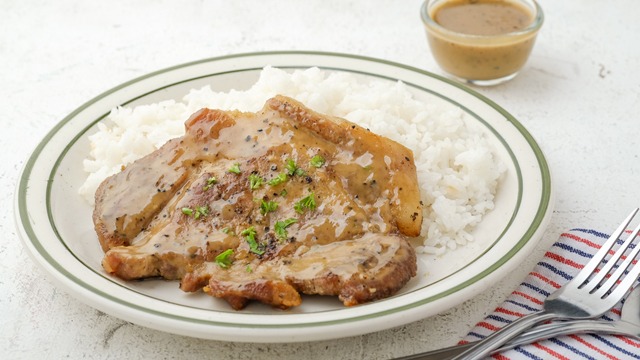 Peppered Pork Steak Recipe
Posted in:
Recipe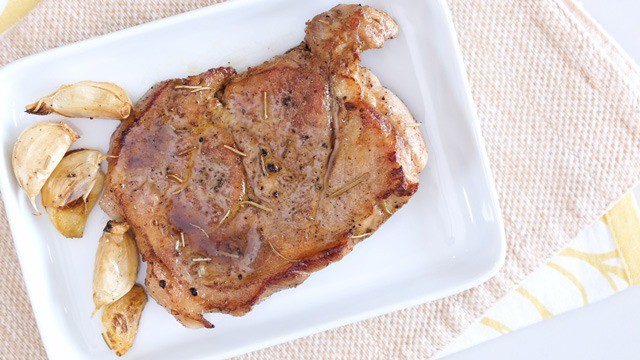 4 Pan-fried Pork Steak Recipe
This pan-fried pork steak recipe couldn't be simpler and easier. To make it more delicious, it's paired with a creamy potato gratin recipe that we're sure you'll love.
Tip: You need to season your pork before frying! In this recipe, you use a dry rub. However, you can take it up a notch and make it even better. Brine it for at least thirty minutes up to four hours. This will make for more tender, delicious bites while keeping your cut moist through heating.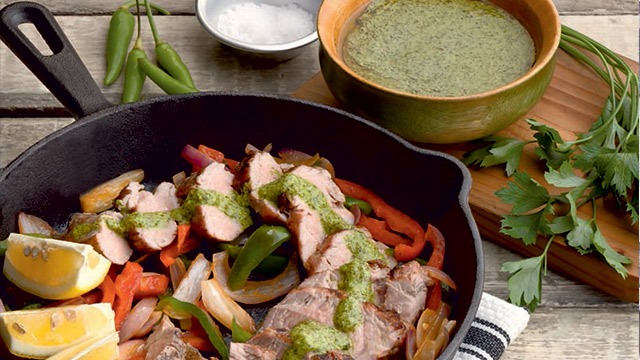 ADVERTISEMENT - CONTINUE READING BELOW
Recommended Videos
5 Grilled Pork Steak with Chimichurri Sauce Recipe 
This 30-minute recipe uses pork tenderloin as its steak, making for extra tender bites. Plus, it's dressed up with a super easy chimichurri sauce that only requires you to blitz together some ingredients.
Tip: Keep your pork from drying out in the freezer or refrigerator by wrapping it tightly with plastic wrap. Dried-out pork will yield a tougher bite.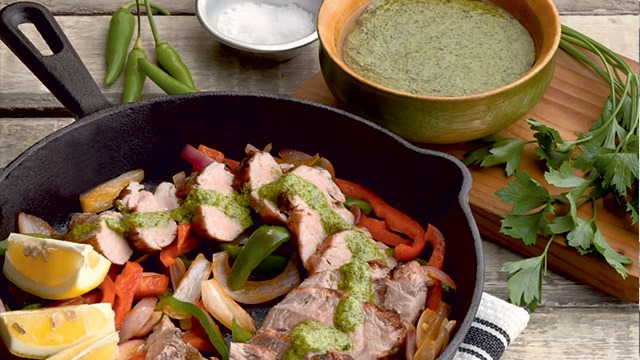 Grilled Pork Steak with Chimichurri Sauce
Posted in:
Recipe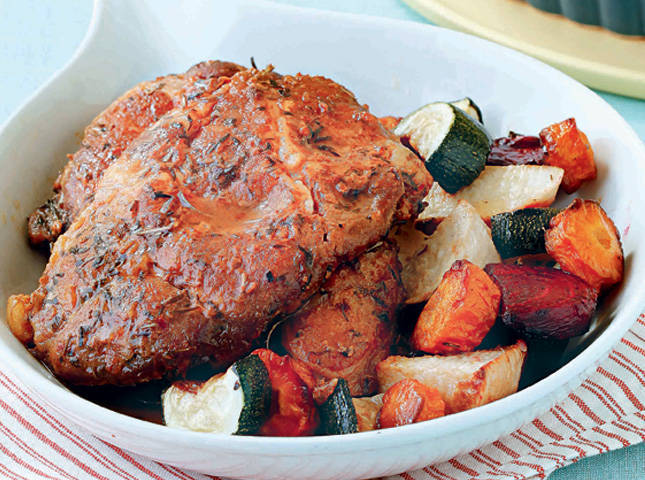 6 Herbed Pork Steaks with Roasted Root Veggies and Zucchini Recipe
Thyme, garlic, tarragon, and rosemary are infused into these delicious pork steaks. Add a hefty and hearty serving of veggies, and you've got something short of a show stopper. Because this recipe uses a marinade, you're also sure to get a moist, tender cut that doesn't skimp on flavor.
Tip: Keep that bone in! As tempting as it is to buy a boneless cut, having that bone in serves several functions. The bone itself adds more flavor to the meat and helps in keeping your cooking moist. This also goes with other pork chop recipes.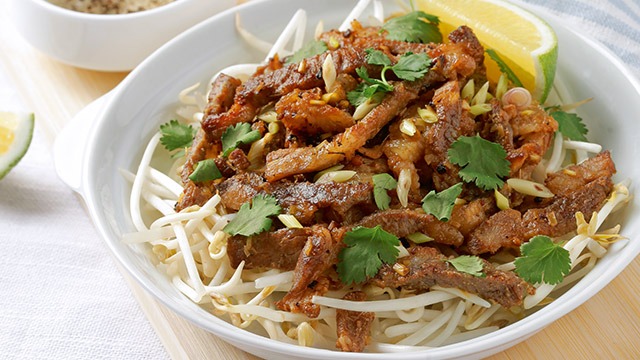 7 Vietnamese Pork Strips Recipe
Want to cook your pork steak even faster? Why not cut them into strips? This also helps the delicious flavors and aromatics get into the meat. So many bright Vietnamese flavors come together in this dish: lemongrass, fish sauce, lime, wansoy, and crunchy bean sprouts.
Tip: Make sure you don't overcook pork. Overcooked pork becomes tough and chewy. Nobody likes that! For this recipe, you'll have to be vigilant because thinner slices will cook and burn faster.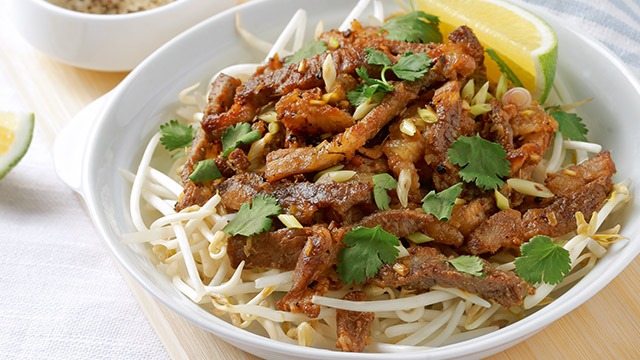 Vietnamese Pork Strips Recipe
Posted in:
Recipe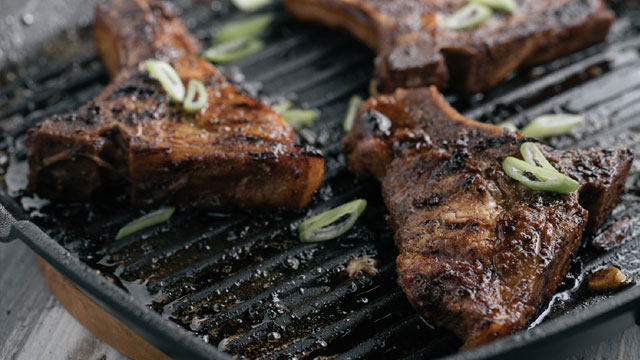 8 Asian Barbecue Pork Chops Recipe
Do you love the flavor of Asian barbecue—sweet, salty, and spicy? Then translate that love into this delicious pork chop recipe. The pork steak cut is the perfect cut of pork for grilling. You can also use pork ribs for this recipe.
Tip: Avoid getting pork steaks that are too thin. This is especially important if, in the past, you kept getting dried pork chops as these tend to burn. Instead, go for thin-sliced pork chops or steaks that are 1 ½-inch thick.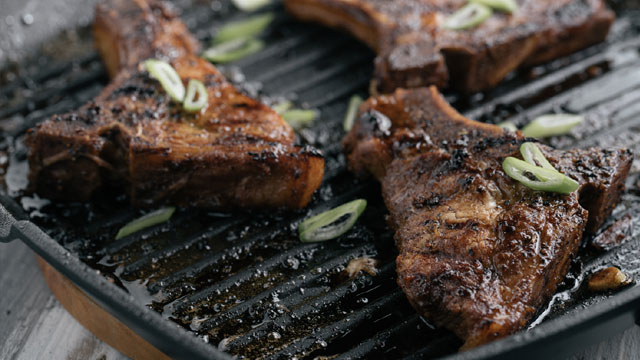 Asian Barbecue Pork Chops Recipe
Posted in:
Recipe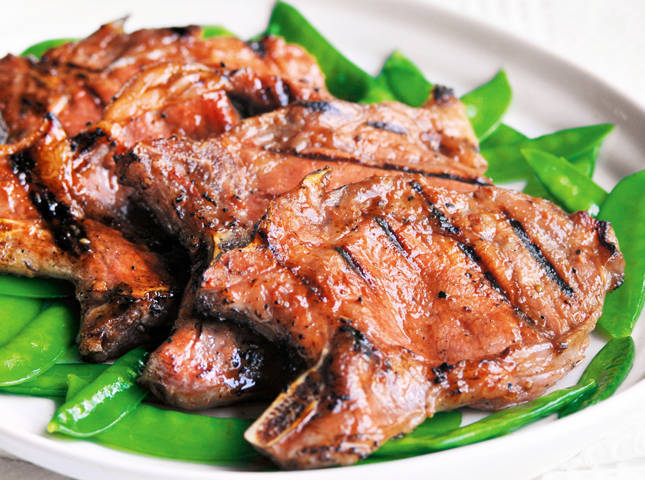 9 Grilled Char Siu Pork Chops Recipe
Imagine the sweet and savory flavor of char siu added to the slight bitterness of grilling—this recipe is a perfect balance. This recipe uses Shaoxing wine that gives it flavor and tenderness. Trust us, you'll find many other uses for this Chinese ingredient. 
Tip: We love some fat in our pork, but if you're grilling it, make sure you only have a bit of it. Too much might drip and fall into coals, causing it to suddenly flare up. If you have any excess fat, make sure it's not more than a quarter thick.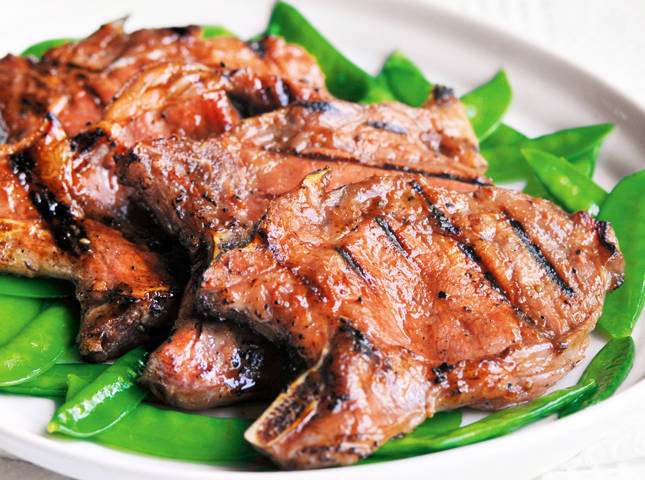 Grilled Char Siu Pork Chops
Posted in:
Recipe
Stock up on pork steak! With it, you can cook up easy and delicious meals any time of the week. Pair it with freshly cooked hot rice or a serving of delicious potatoes, and you're good to go. With these recipes for pork steaks, any meal of the week can be made extra scrumptious. 
Get to know more about the pig so you can use every part to its potential. You should also check out our guide on how to buy and prepare your cuts. With these tips, you'll be able to perfect cooking pork in no time. 
ALSO READ: