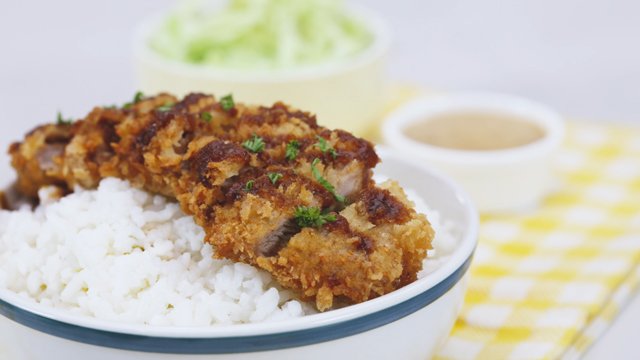 These breaded pork cutlets are perfect when you want a fast and easy meal on the table. The most difficult part is finding the tonkatsu sauce in the supermarket! But don't worry. Supermarkets are packed with authentic Japanese ingredients that all you have to do is look for it, and you and family can have tonkatsu whenever you want. Win!
Pork Tonkatsu
Takes 20 minutes
Takes 4 servings
4 pork cutlets, skin and fat trimmed
2 teaspoons sesame oil
1/2 cup all-purpose flour
1 large egg
1 cup Panko breadcrumbs
Tonkatsu sauce, to serve
Steamed rice, to serve
Salt and ground black pepper, to taste
Oil, for pan frying
1 Using a meat mallet, pound pork cutlets until thin. Rub sesame oil into pork, then season with salt and ground black pepper on both sides.
2 Prepare the breading station: Lightly dredge pork cutlets in flour, dunk in egg, then in panko breadcrumbs. Press breadcrumbs onto the surface if needed. Repeat with remaining pork.
3 Heat a frying pan with enough oil for pan-frying over medium heat. Pan fry pork in hot oil until browned on both sides and pork is cooked through. Drain on a rack over paper towels. Set aside.
4 To serve, fill 4 bowls with steamed rice. Cut each pork into strips on a cutting board. Place on top of rice, and drizzle with tonkatsu sauce. Serve with sliced cabbage and sesame dressing on the side.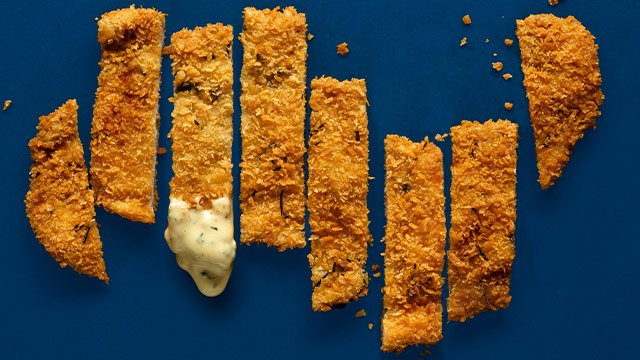 Breaded Pork Cutlets Recipe
Posted in:
Recipe