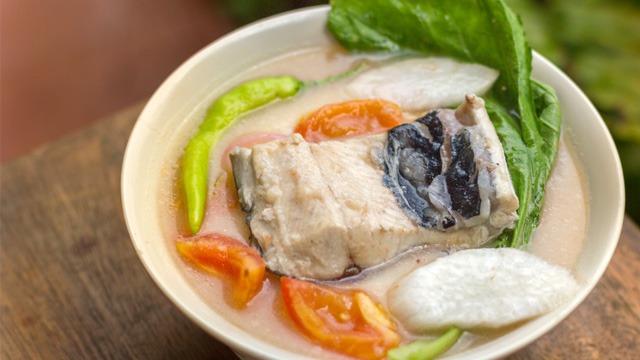 Cooking sinigang using seafood is one of the easiest sinigang recipes you can make. That's because seafood cooks quickly in the boiling hot soup. From the shrimp to the clams and slices of bangus, the simmering soup easily cooks these within a few minutes of adding them to the pot.    
However, fast cooking ingredients such as seafood can be a good thing as well as a bad thing. It's bad if you commonly find that your seafood becomes overcooked. Since seafood cooks fast, you can easily overestimate the timing of adding ingredients which could result in one kind of food becoming overcooked while the other ingredients are still either being added or still cooking.
Here is the tip you need so you can stop overcooking the seafood when you make sinigang: cook ingredients one at a time.
Shellfish like clams and tahong need more time to cook because of the thick shells than the shrimp and fish pieces do. So, if you're thinking of adding all of these seafood at the same time, you may find that the tahong aren't ready yet when the shrimps are perfectly cooked. 
This super quick fix to this cooking problem involves a strainer, spider wok, or a slotted spoon and some careful timing. Here are estimate cooking times for the seafood you may want to add to your sinigang:
• shrimp = 2 to3 minutes 
• bangus (milkfish) = 3 to 5 minutes
• halaan (clams) = 6 to 8 minutes 
• tahong (mussels) = 5 to 7 minutes
Here's what you do: 
1 Prepare your sinigang soup as the recipe directs. Remove all the ingredients into a separate bowl from the simmering soup so you are left with just the simmering soup.  
2 When ready to cook the seafood, add one kind of seafood first. Time it so you don't overcook. Using the slotted spoons or strainer, remove the cooked seafood, and set aside. 
3 Add the next batch of seafood and cook. 
4 Repeat until all the seafood are cooked perfectly. 
5 When ready to serve, return the seafood to the simmering broth and cook only until heated through. Serve. 
You should do the same thing with the vegetables, too, so you have a perfectly cooked sinigang every time you have the craving. 
***
Thinking about what to cook next? Join our Facebook group, Yummy Pinoy Cooking Club, to get more recipe ideas, share your own dishes, and find out what the rest of the community are making and eating!
Got your own version of the classic dishes? Pa-share naman! Get your recipe published on Yummy.ph by submitting your recipe here.
ADVERTISEMENT - CONTINUE READING BELOW
Recommended Videos
Yummy.ph is now on Quento! Click here to download the app on Android and IOS, and enjoy more articles and videos from us and your other favorite websites!