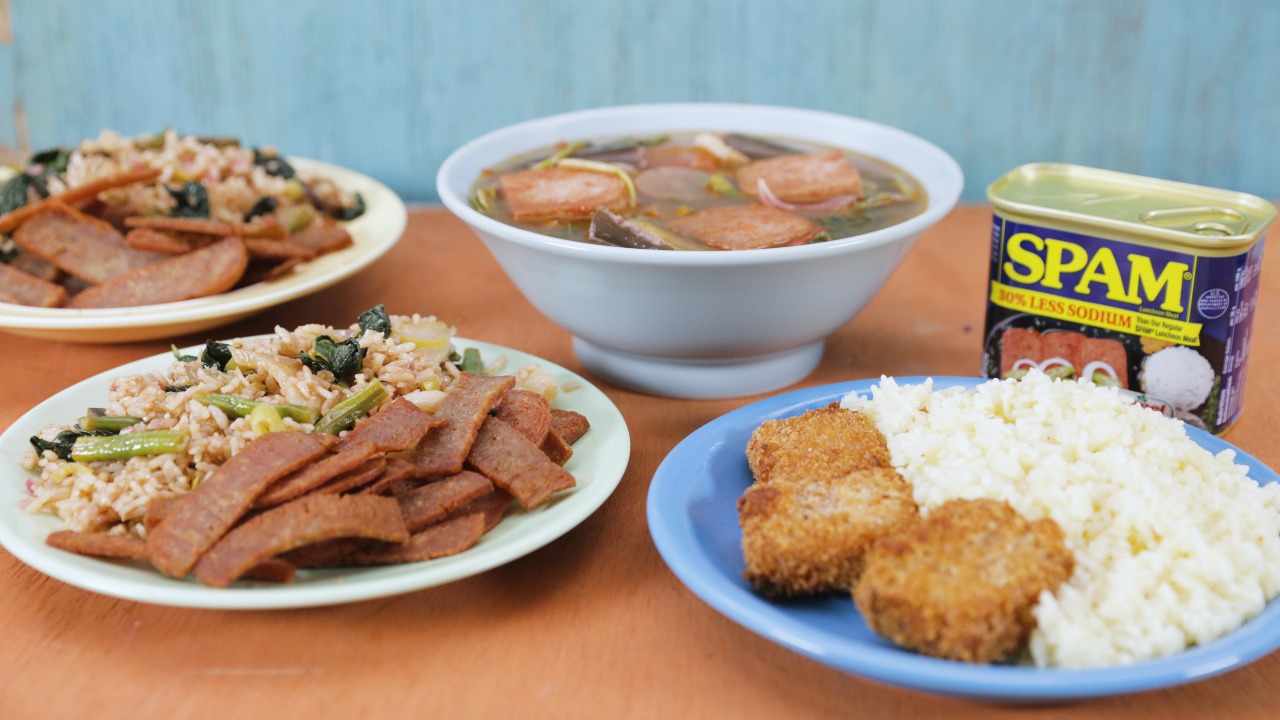 Filipinos can agree on two things: how amazing sinigang mixes are and how easy it is to cook up SPAM. Put those two together and you've got easy, delicious, and quick recipes that are out-of-this-world delicious. We used sinigang mix's bold, tangy flavor to spruce up meaty, all-purpose SPAM in these three recipes.
Even people who don't like SPAM or sinigang will love this. You get the crunchy crust outside, the tender bite of SPAM, and that bright sinigang flavor dancing in your mouth.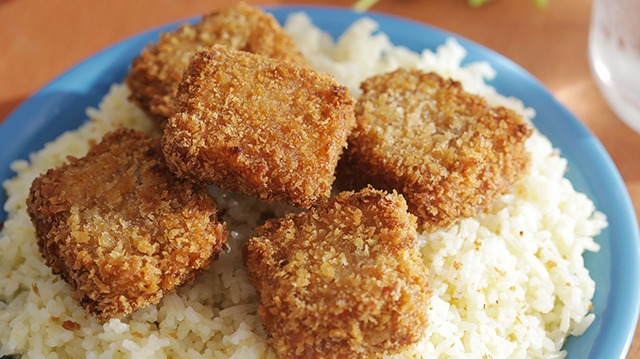 Crispy SPAM Sinigang Nuggets
Serves 4-5
Takes 20 minutes
2 large eggs
1 44-gram pack sinigang sa sampaloc mix
1 340-gram can SPAM Low Sodium, cut into 16 rectangles
4 tablespoons all-purpose flour
1 ½ cups panko breadcrumbs
2 cups oil
1 Set up a breading station: In a bowl, whisk two eggs. Add 1 tablespoon of the sinigang mix and whisk until well blended. In another bowl, mix together remaining sinigang mix and all-purpose flour. In another bowl, add panko bread crumbs.
2 One by one, cover each piece of SPAM in flour. Next, dip it in your egg mixture then transfer to your bowl of panko bread crumbs. Press breadcrumbs onto your SPAM slice to make sure it's coated as much as possible. Set aside on a plate, and repeat with the rest of SPAM pieces. Set aside in the freezer as you proceed to the next step.
3 Preheat oil in a small frying pan. When oil is hot enough, take your prepared SPAM from the freezer and fry a batch of the coated SPAM. Place in a strainer over paper towels. Repeat for the remaining SPAM slices. Serve hot. 
In this next recipe, you get a fully loaded, bold-flavored sinigang rice that's complemented by crispy strips of SPAM. It's a quick, delicious, and satisfying sinigang recipe that you can cook using your leftover rice.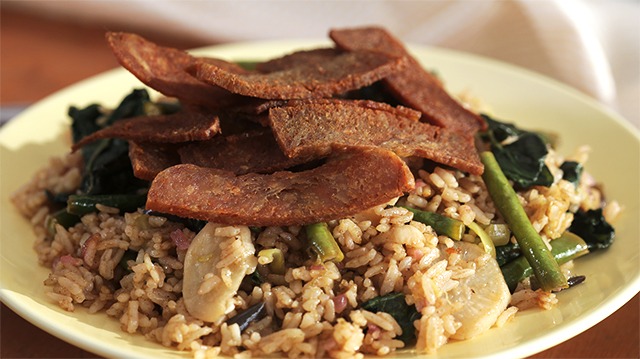 Sinigang Rice With Crispy SPAM Topping
Takes 20 minutes
Makes 4-5 servings
1 cup oil, or as needed for deep frying
1 340-gram can SPAM Low Sodium, cut as thinly as possible
2 20-gram packs sinigang sa sampaloc mix
1 cup water
1 small labanos (radish), sliced thinly
½ bundle sitaw (string beans), sliced into ½-inch pieces
1 small talong (eggplant), sliced into thin quarters
2 tablespoons oil
4 cloves garlic, sliced
1 medium red onion, sliced
3 cups cooked rice
1 bundle kangkong (water spinach), leaves only
3 siling pangsigang (green finger chilies), sliced thinly, seeds removed
1 Slice SPAM as thinly as possible and deep fry in 1 inch of hot oil. Drain on a strainer, and set aside.
2 In a saucepan on low heat, mix 1 pack sinigang mix into water. Stir until dissolved.
3 Add labanos, sitaw, and talong into the saucepan. Jack up heat and bring to a boil. Simmer until the labanos is tender. Set aside in a bowl.
4 Add 2 tablespoons oil into a wok over medium heat, and saute garlic and onions. When garlic is golden brown, add rice and stir to mix.
5 Sprinkle remaining sinigang mix over rice and mix until well incorporated. Return your boiled veggies with the sinigang sauce and stir until evenly mixed. Let it cook undisturbed for two minutes before stirring.
6 Add kangkong leaves and green chilies on top of rice. Toss together until kangkong has wilted, and turn off the heat.
7 Serve sinigang rice with crispy SPAM on top.
Yes! You can make sinigang anytime even if there's no meat in your freezer! All you need is SPAM in your pantry and you're good to go! Can't believe it? You have to try it!
ADVERTISEMENT - CONTINUE READING BELOW
Recommended Videos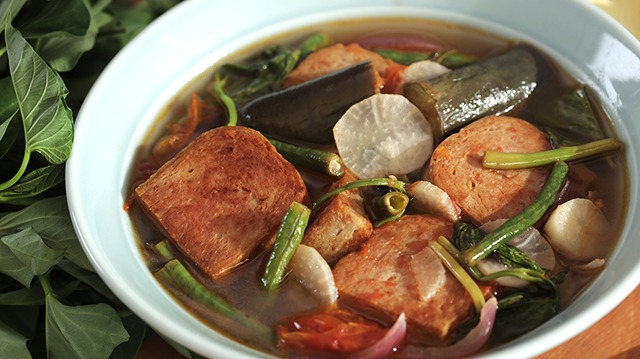 SPAM Sinigang Recipe
Takes 30 minutes
Makes 4 servings
3 tablespoons canola oil
2 cans (340 grams each) SPAM Low Sodium, cut into 8 large cubes 
1 40-gram pack sinigang sa sampaloc mix
1 small red onion, quartered
1 small labanos (daikon radish), peeled, cut into rounds
2 medium native tomatoes, quartered
3 cups water, or as needed
2 medium talong (eggplants), halved, cut into 3-inch lengths
1/2 bundle sitaw (string beans), cut into 2-inch lengths
1 bunch kangkong (water spinach), tender stalks and leaves only
1 In a medium pot over medium heat, heat oil. Add SPAM cubes and fry until lightly browned on all sides. Remove SPAM from the heat and set aside.
2 Place sinigang mix, onions, labanos, tomatoes, and enough water in the pot to just cover the vegetables. Bring to a boil, lower heat to a simmer, then cook until labanos is tender, about 10 minutes.
3 When labanos is tender, add talong, sitaw, and tender stems of kangkong. Cook until tender. Return SPAM cubes back into the pot. Bring back to a simmer or until SPAM is heated through about 1 minute.
4 When ready to serve, stir in kangkong leaves and let cook until just wilted. Remove pot from the heat, and serve hot with steamed white rice.
These recipes have awakened our love for sinigang and SPAM! Just thinking about it is making us hungry again. Excuse us as we cook even more!
Crispy SPAM Sinigang Nuggets and Sinigang Rice With Crispy SPAM Topping Recipes by Jasper Castro. SPAM Sinigang Recipe by Roselle Miranda.
ALSO READ: