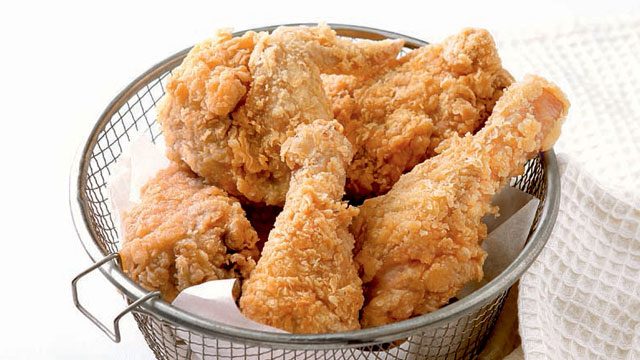 Fried chicken is one of the trendiest food items these days. Biting into crispy skin and enjoying moist, juicy meat brings us utter joy. But if spending a couple hundred bucks for two pieces of fried chicken feels too excessive, then just make some at home! Here are some helpful pointers:
1. Marinate for maximum flavor. 
For maximum juiciness and flavor, marinate chicken for at least 4 hours or overnight. You can go with a brine (water flavored with salt, aromatics, herbs and spices), or do what some restos have been doing and use buttermilk.
What's buttermilk? Traditionally, it is the tart-tasting liquid left after butter has been churned out of cream. It imparts a tangy flavor to chicken and makes it tender and juicy, too.
Buttermilk is available through Rizal Dairy Farms. But if you can't find any, simply mix 1 tablespoon plus 1 teaspoon lemon juice or plain vinegar to 2 cups milk. Let it sit until it curdles, for about 10 minutes.
2. Breading is key to crunchy skin. 
Flavorful breading gives fried chicken that crispy crunch. You can simply mix a cup of flour with a teaspoon each of salt and pepper. But for more flavor, play around with herbs and spices like onion powder, garlic powder, cayenne, or paprika.
Here's what you do: 
Step 1: Prepare 2 containers: one for the seasoned breading, and another for a beaten egg or buttermilk.
Step 2: Press the chicken into the breading, making sure it is evenly coated with no bald spots.
Step 3: Dip the chicken in the egg or buttermilk.
Step 4: Press the chicken into the breading again to pack in more flavor and ensure a thick crispy crust.
Place chicken on a baking sheet while waiting for the oil to heat up.
3. Fry properly.
Use oil that has a high smoke point like canola or vegetable oil. Fill a deep skillet or pot with oil until it is 1/3 full. On medium heat, bring oil to a steady 350F. A thermometer would be a great tool to have. One nifty trick to know if oil is hot enough is to drop a cube of bread into the oil—it should brown immediately but not burn.
Fry similar sized chicken in batches. Add the chicken a few pieces at a time, making sure not to overcrowd the pan. Adding too much chicken will bring down the temperature of the oil.
Use tongs to flip the chicken for even browning. Cook until crust is golden brown. White meat cooks for about 6 to 8 minutes, while dark meat takes about 13 minutes. The internal temperature of cooked chicken should reach at least 165F.
Drain chicken on a wire rack and not on paper towels as this will make the chicken steam and make the skin soggy. Let chicken rest before serving.
These tweaks to your prep and frying will give you yummy and crispy fried chicken. It's bound to be a mainstay at your dinner table!
More fried chicken recipes: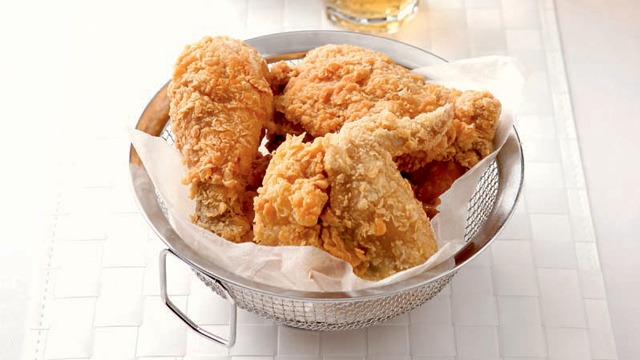 Southern-Style Fried Chicken
Posted in:
Recipe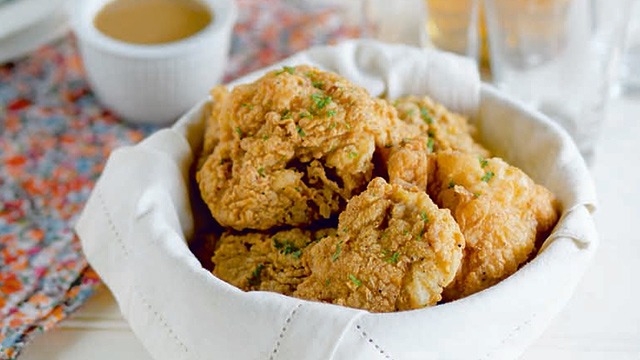 Buttermilk Fried Chicken with Gravy
Posted in:
Recipe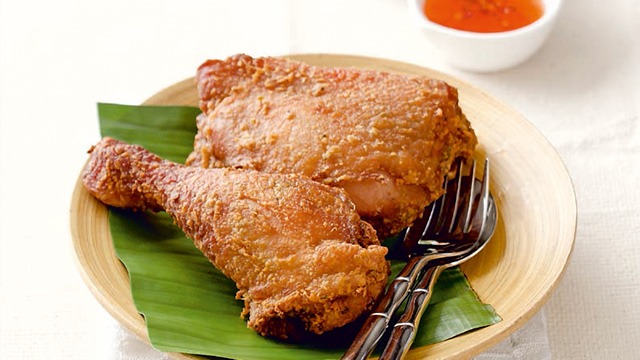 Thai-Style Fried Chicken Recipe
Posted in:
Recipe