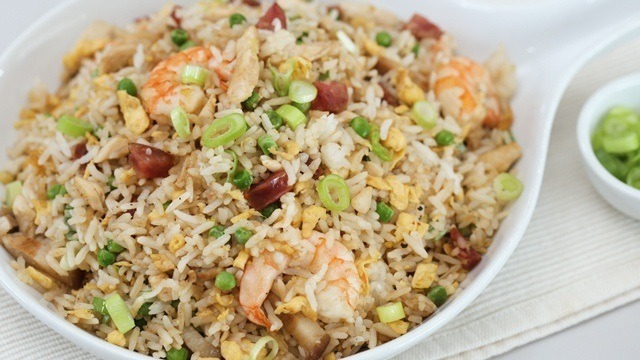 If you have the ingredients on hand, your favorite Chinese restaurant-style fried rice is easy to recreate at home. With a few key ingredients, this fried rice will taste as close to your restaurant favorite as you can possibly make it without having to go out. 
Yang Chow-Style Fried Rice
Takes 20 minutes
Makes 6 servings
2 tablespoons canola oil
2 large eggs, beaten
2 cloves garlic, peeled, chopped
1/4 cup frozen green peas, thawed
1/2 cup cooked chicken breast, sliced
1/2 cup Char Sui pork, chopped
1 cup shrimp, peeled, deveined
1 Chinese sausage, diced
3 cups day-old rice
2 tablespoons soy sauce
1 teaspoon sesame oil
1 stem scallion, pale green and white parts only, chopped
Salt and ground black pepper, to taste
1 In a large wok over medium heat, heat oil. Once hot, add beaten eggs and cook, stirring until just cooked through. Add garlic, stirring, until fragrant. Add green peas, chicken, pork, and shrimp, and cook until shrimps are cooked through and have turned orange. Add Chinese sausage, and toss to mix. Season with salt and pepper to taste.
2 Add rice, and toss to mix well. Season with soy sauce, salt, and pepper to taste. Toss until rice is heated through. Drizzle and toss in sesame oil. Add and mix in scallions. Remove from heat, and serve immediately.