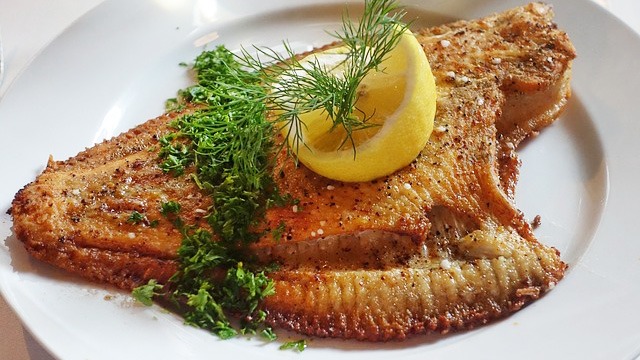 You have probably asked this of yourself when frying fish: How can I keep my fish from breaking apart?
You can do a few things actually. You can use a nonstick pan so it won't stick to the pan. You can help this along by making sure that your fish is as dry as possible, too. You can choose another fish cut that is not a fillet. Fillets are more likely to flake apart than a fish steak, which is basically a cross-section of the entire fish. This cut results in a fish cut that has both the skin and the bones still in.  
Another way is to make sure that you do not move or touch the fish as it cooks until it has been seared. All too often we get impatient while cooking and the food isn't ready to be flipped but we try anyway. This results in tender and delicate fish breaking apart before it has had time to naturally release itself from the pan. 
Apart from all of these tips, there are some preventive measures you can do to stop the fish from sticking to your pan and breaking apart even before it's in the pan. We noted three ways to prevent fish from falling apart before you start cooking: 
1 Cook fish with the skin on.  
You might think that your fish vendor was lazy when you got home and discovered your freshly filleted fish still has the skin on. Unless you tell them otherwise, it's actually best when the fish fillets still have the skin on. Other than the fact that some love crispy fish skin, this is basically your insurance that when you cook it, the flaky fish will say intact. The skin keeps the flaky flesh together. 
This can mean you are cooking the fish whole or as a whole fillet as you might do if you are cooking a freshly filleted fish or a salmon fillet. (Salmon is commonly filleted with both the scales and skin still on.)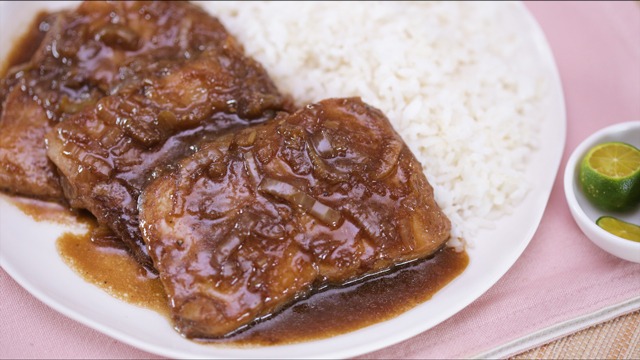 WATCH: How To Make Fish Bistek
Posted in:
Cooking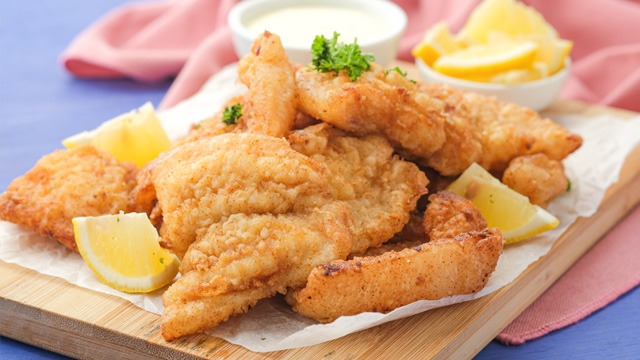 2 Cook fish coated in a batter or bread it. 
Chefs will tell you that even the simplest fried fish might have a bit of flour of some kind. It's commonly very lightly floured before frying because this is what will prevent the fish from sticking to a pan, even if it's not a nonstick pan. That little bit of starch or flour also helps dry the surface of the fish to prevent sticking. 
Take this pro tip a few steps further, and coat it in either a batter or bread it with a coating of Panko. This coating is not sticky once cooked, readily releases when cooked, and prevents the flesh of the fish from ever touching the pan at all. Not only that, but the coating also insulates the fish and steams it from inside. This prevents you from overcooking the fish since the outside will brown faster than the inside will overcook.
ADVERTISEMENT - CONTINUE READING BELOW
Recommended Videos
Plus, you get a super crispy outside with your meal. How's that bad?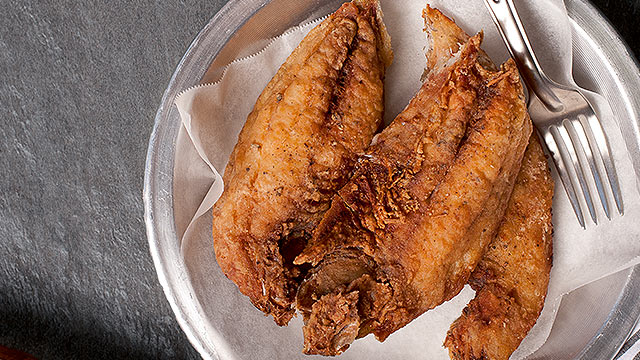 3 Cook fish until crisp. 
Tender, flaky fish isn't always the desired texture some people want. If you are one of those who actually love fried fish that has become crisp, this tip is no secret. While others may love the big flakes of fish, the smaller, more delicate fish flakes that crisp up and become somewhat tough will definitely not fall apart. This method of cooking isn't necessarily a bad thing, and some of us love this texture of fish! 
This may sound like you've overcooked the fish, but some do like their fish a little less flaky and more crispy, chewy. 
Did your fish fillet fall apart? Don't fret! If you despair of ever cooking fish the way you like it, remember that it's all about how you like your fish cooked. Whether it's been cooked to perfection but has flaked apart, think of the way it will taste instead and forge on with your homemade meal. If you are distressed, let it flake apart and make fish cakes that are doubly delicious.   
***
Thinking about what to cook next? Join our Facebook group, Yummy Pinoy Cooking Club, to get more recipe ideas, share your own dishes, and find out what the rest of the community are making and eating!
Got your own version of the classic dishes? Pa-share naman! Get your recipe published on Yummy.ph by submitting your recipe here.