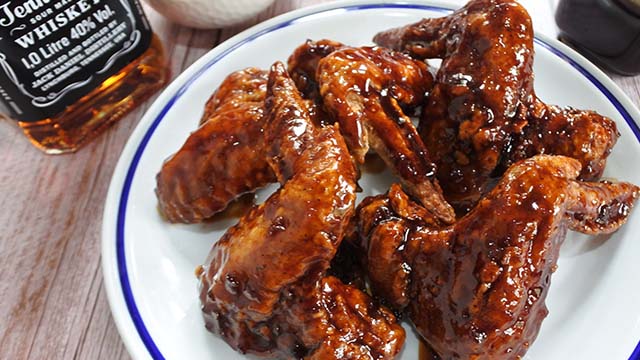 Sticky, sweet, and spicy, these saucy Jack Daniel's barbecue wings have it all! We hacked the irresistible sauce from a popular chicken wing place to give you an easy chicken wing recipe that you can make at home. 
It starts with barbecue sauce with Jack Daniel's whiskey. We used the Old No. 7 brand whiskey, a classic with delicious notes of sweet vanilla and caramel plus oak and a tiny bit of sourness to its taste. Because it's got a nice balance of sweet, woody, and sour, it's a great whiskey to use for a barbecue sauce that carries these flavors in it, too.
To make the barbecue sauce, we kept it simple and used ketchup, brown sugar for its molasses content and flavor, some fresh garlic and onion, and a few spices to keep its flavors interesting. The result is a barbecue sauce that's fantastic tossed with some chicken wings just like 24 Chicken does or served with pork chops or barbecue inihaw na liempo for when you want to change things up in the kitchen. 
You're going to want this barbecue sauce recipe handy. Here's the recipe: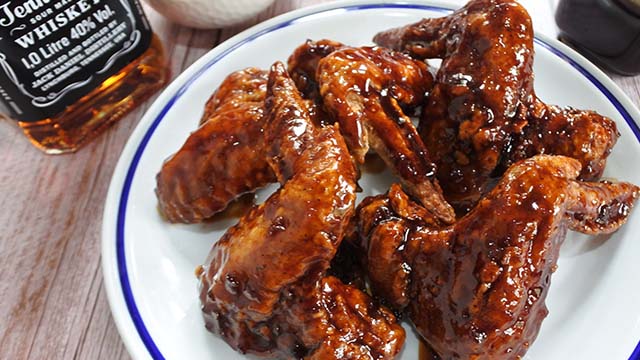 24 Chicken-Style Jack Daniel's Barbecue Wings Recipe
Takes 40 minutes plus brining 
Makes 6 servings 
24 Chicken-Style Jack Daniel's
 

Barbecue

 

Wings Ingredients
For the barbecue sauce: 
1 medium white onion, peeled, chopped finely
2 garlic cloves, peeled, finely chopped
1/2 cup Jack Daniel's whiskey
1 cup dark brown sugar
1/2 cup soy sauce
1/2 cup ketchup
1 teaspoon hot sauce
1 tablespoon vinegar
1 teaspoon paprika
For the chicken wings: 
1 kilo chicken wings
1 tablespoon salt
1 cup all-purpose flour
1 1/2 teaspoons salt, more to taste
1 teaspoon ground black pepper, more to taste
1/2 teaspoon paprika
1/4 teaspoon curry powder
oil, for deep frying 
How To Make 24 Chicken-Style Jack Daniel's Barbecue Wings 
1 Combine the chopped onion, garlic, and Jack Daniel's in a small saucepan over medium heat. Lower heat to a simmer and cook until the whiskey is reduced to half, about 3 minutes.
2 Add the brown sugar, soy sauce, ketchup, hot sauce, vinegar, paprika, and pepper.
3 Bring to boil then reduce the heat to low and simmer, uncovered, until reduced and thickened. Stir occasionally, about 10 to 15 minutes.
4 Add more Jack Daniel's whiskey if a stronger flavor is desired. Use immediately or store in an airtight container.
5 Meanwhile, toss the chicken wings with salt and let sit 2 hours or overnight. When ready to cook, combine flour, salt, pepper, paprika, and curry powder in a bowl. Toss wings well in the flour mixture. Set aside once coated.
6 Heat enough oil for deep frying over medium heat. Fry chicken wings in batches. Drain on a rack.
7 When ready to serve, use a large bowl to toss barbecue sauce with still-hot chicken wings as desired.
*** 
ADVERTISEMENT - CONTINUE READING BELOW
Recommended Videos