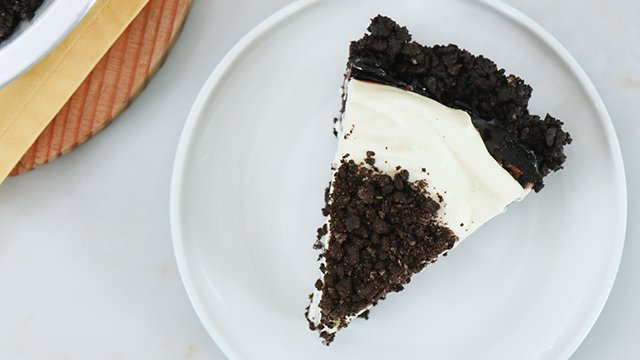 This pie is a cookies and cream lover's dream! While there are many variations out there, this one is made with your favorite sandwich cookie made into a crust, layered with a dark chocolate pudding that mimics the chocolate cookie, and topped with whipped cream. We also added more crushed cookies on top! 
Chocolate Mud Pie Recipe 
Takes 20 minutes plus chilling
Makes 8 servings
For the Chocolate Crust:
1 1/2 cups Cream-O chocolate cookie crumbs, more for topping
1/4 cup butter, melted
For the Dark Chocolate Pudding:
1/4 cup cornstarch
1/3 cup sugar
1/4 cup cocoa powder
1/8 teaspoon salt
1 cup semi-sweet chocolate, chopped
1 1/2 cups fresh milk
1 teaspoon vanilla extract
1 Make chocolate crust: Mix Cream-O cookie crumbs and butter together in a bowl, and press into an 8-inch pie pan. Chill until ready to use.
2 Make Dark Chocolate Pudding: In a saucepan, mix all ingredients. Place over medium heat and cook, whisking, until mixture comes to a boil. Lower heat to simmer and simmer only until mixture thickens. Remove from heat and pour onto the chilled crust. Chill until completely cold.
3 When ready to serve, whip whipped cream until soft peaks. Dollop onto chilled pudding and spread near the edges. Sprinkle whipped cream with additional chocolate crumbs. Serve cold.