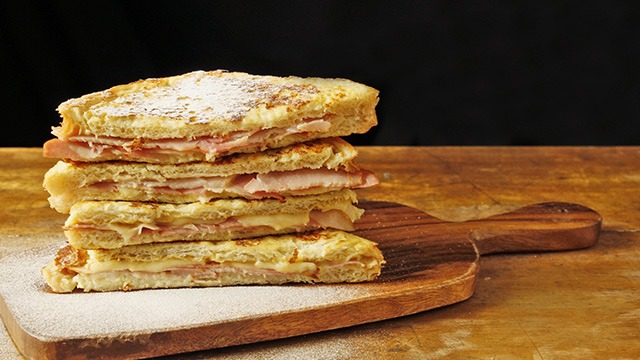 This winning sandwich recipe combines the greatness of a grilled ham, turkey bacon, and cheese sandwich with the delicate sweetness of French toast.
salt and pepper, for seasoning
confectioner's sugar, for sprinkling
1 Whisk together milk, egg, salt, and pepper in a bowl. Set aside.
2 Place 2 white bread slices on a board. Spread mayonnaise on one bread and Dijon mustard on the other bread. Layer slices of ham, turkey bacon, and Emmental cheese on the bread with mayonnaise. Cover with the bread with mustard.
3 Soak sandwich in the egg mixture for 30 seconds. Set aside.
4 Melt butter in a non-stick pan. Pan-fry sandwwich until brown, about 30 seconds. Flip and pan-fry for another 30 seconds.
5 Slice sandwiches in half. Sprinkle with confectioner's sugar.