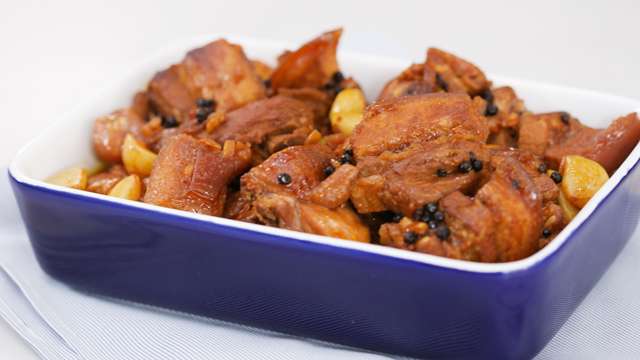 This adobo version is peppery, garlicky, and has an earthy flavor from the atsuete! Frying the meat in atsuete oil not only gives it a nice orange hue, it also gives the meat an extra layer of flavor.
Adobo sa Atsuete
Prep time 5 minutes
Cooking time2 hours
Serves5

3/4 cup soy sauce
1/4 cup white vinegar
3 tablespoons brown sugar
2 tablespoons peppercorns, use whole peppercorns
1/8 cup garlic, chopped
2 bay leaves
400 grams pork, belly part (liempo), cut into 2-inch pieces
400 grams chicken, wings, legs, and thigh parts
1/4 cup atsuete oil (annatto oil)
1/4 cup garlic, cloves
salt
pepper
1 Make the marinade: Mix together all ingredients.
2 Marinate pork and chicken, covered, in the refrigerator for at least 4 hours.
3 Remove meat from refrigerator 10 minutes before cooking. Heat atsuete oil in a pot over medium-high heat. Sear chicken and pork in batches.
4 Add garlic, marinade, and enough water to cover meat. Bring to a boil. Reduce heat and simmer for 1 hour or until pork is fork-tender.
5 Taste then adjust seasoning with salt and pepper. Remove bay leaves. Transfer to a platter.