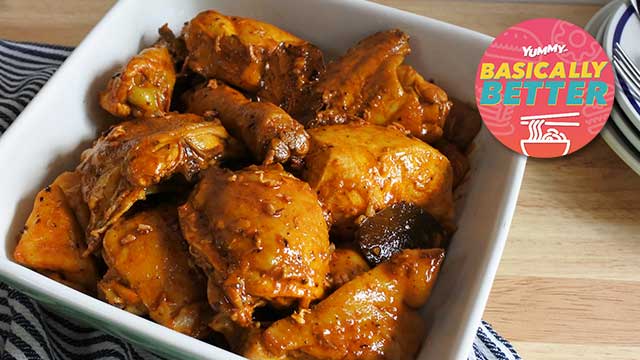 Adobo recipes are one of the most popular recipes in the Philippines. The adobo has many variations throughout the country, and it would be an injustice to say that your favorite isn't authentic. It can be argued that this recipe isn't even a "true" adobo in the popular sense since there is no soy sauce but it does contain vinegar which is where it qualifies as an "adobo".  
This recipe is actually known under many names: red adobo, adobo sa atsuete, adobong pula, and even manok na pula for the version that's made with chicken. For this recipe, this chicken version originated in the Visayas where chicken reigns over pork. This chicken version is still dyed and simmered in the colored and flavorful oil from the atsuete seeds. 
Did you know that atsuete is actually grown abundantly throughout the country? So, this could have originated anywhere! That's why of the many kinds of adobo that can be found around the country, it's where you are that matters.  
Here's how to make it: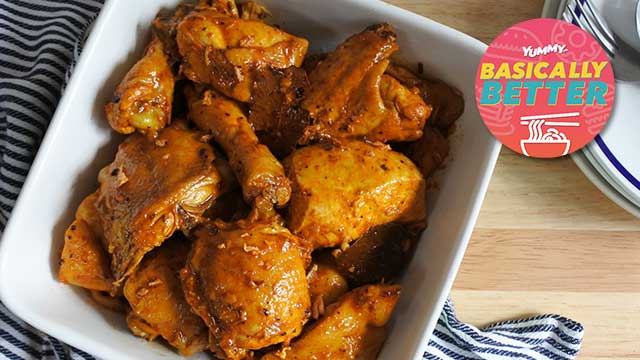 Abobong Manok na Pula Recipe 
Takes 30 minutes
Makes 4 servings 
1/4 cup canola oil 
1 1/2 tablespoons atsuete seeds (annatto seeds) 
6 cloves garlic, finely smashed
1/2 kilo chicken, cut into serving parts 
2 dried laurel leaves 
1/2 cup vinegar 
Salt, to taste 
Ground black pepper, to taste 
1 In a medium pot over low heat, heat the canola oil. Once hot, sauté the atsuete seeds for 2 to 3 minutes. Strain out the seeds from the oil and then return the pan to the heat.
2 Heat the oil over medium heat then add the garlic. Sauté until fragrant, a few seconds, before adding the chicken pieces. Sear the chicken before flipping. Season with salt and ground black pepper, to taste. 
3 Flip the chicken, sear this side, and season again. (Season generously for the best flavor.) 
4 Add the laurel leaves and vinegar. Bring the vinegar to a boil then simmer, around 10 minutes. Continue cooking until the chicken is cooked through and the raw flavor of the vinegar has evaporated. Serve while hot. 
ALSO TRY: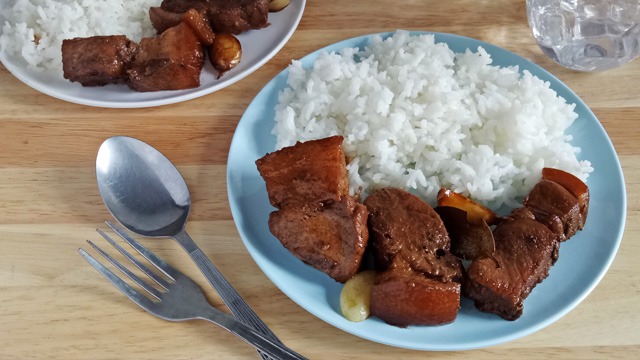 WATCH: How To Make Sprite Pork Adobo
Posted in:
Cooking
***
Thinking about what to cook next? Join our Facebook group, Yummy Pinoy Cooking Club, to get more recipe ideas, share your own dishes, and find out what the rest of the community are making and eating!
Got your own version of the classic dishes? Pa-share naman! Get your recipe published on Yummy.ph by submitting your recipe here!