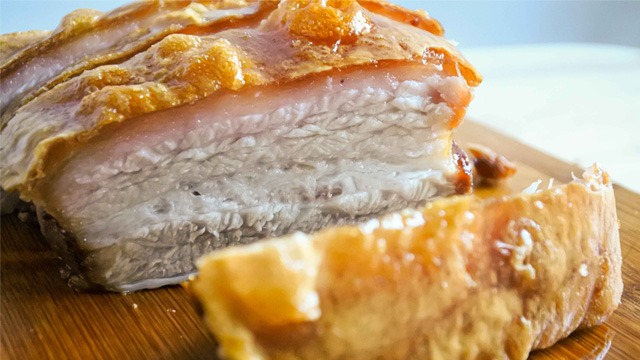 Learn to use your air fryer to cook a crispy lechon kawali. This recipe is all about the air fryer and how you can make best use of it. While you can certainly just place the pork belly in the air fryer and cook it, you will get an extra crispy version with this recipe.  
READ THESE: MORE RECIPES ABOUT LECHON KAWALI   
Plus, you won't need to deep worry about oil if you make this air fryer lechon kawali recipe instead. This is how we did it: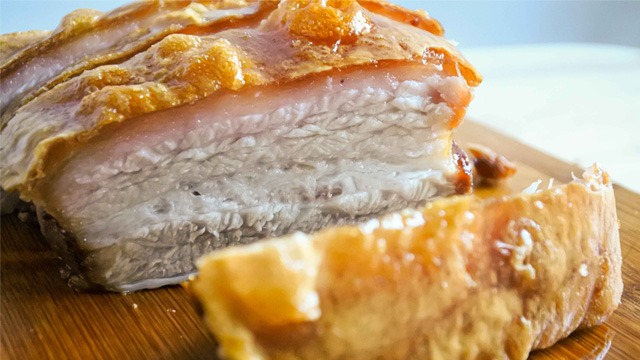 Air Fryer Lechon Kawali Recipe 
Takes 2 hours 40 minutes plus overnight chilling
Makes 6 servings 
1 kilo pork belly, lechon kawali cut
1 tablespoon salt
1/4 cup patis (fish sauce) 
1 teaspoon black peppercorns
2 dried bay leaves
water, as needed
How To Make Air Fryer Lechon Kawali Recipe 
1 Place the pork belly in a large pot. Add salt, patis, black peppercorns, and bay leaves. Pour enough water to cover.
2 Bring to a boil then simmer until tender, about 2 hours. (Alternatively, use a pressure cooker or instant pot to cut your cooking time in half.)
3 Remove tender pork from the water and set aside to cool. (Reserve water as pork stock for another recipe.) Once cool, set aside to chill overnight.
4 Preheat air fryer for 10 minutes at 200 degrees C when ready to cook.
5 Remove pork from the refrigerator and place it in the basket of the air fryer. Close and set the timer for 10 minutes. Decrease the heat to 180 degrees C and air fry for another 20 minutes. 
6 Remove from the air fryer and let rest 5 minutes before chopping into bite-sized pieces. Serve with lechon sauce or your choice of dipping sauce.
The pork will pop and crisp at the beginning under the high heat before "frying" the rest of the pork. For the cleanest slices of lechon kawali with minimal shattering, turn the pork upside down when ready to cut. 
READ THESE: MORE RECIPES ABOUT LECHON KAWALI   
Are you excited to try this recipe out in your air fryer? Let us know how it turned out for you! 
ALSO READ: 
***
Thinking about what to cook next? Join our Facebook group, Yummy Pinoy Cooking Club, to get more recipe ideas, share your own dishes, and find out what the rest of the community are making and eating!
Got your own version of the classic dishes? Pa-share naman! Get your recipe published on Yummy.ph by submitting your recipe here!
ADVERTISEMENT - CONTINUE READING BELOW
Recommended Videos