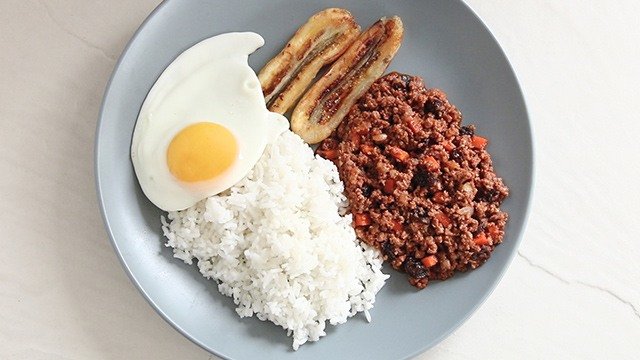 Arroz a la Cubana paired with rice, fried egg, and fried bananas make for a satisfying meal any time of the day.
Arroz A La Cubana Recipe

2 tablespoons olive oil
1/3 cup onion, chopped
1 clove garlic, chopped
1/3 cup carrot, diced
2 tablespoons tomato paste
400 grams ground beef
dash of Worcestershire sauce
dash of hot sauce
1/3 cup carrot, diced
salt, to taste
¼ cup raisins
saging na saba, to serve on the side
egg, to serve on the side
 
1 In a pan, sauté onions, garlic, and carrots in olive oil. Add tomato paste and cook until the tomato paste has darkened in color but is not burned.
 
2 Add the ground beef and cook, stirring well.
 
3 Add all the sauces and seasonings. If the mixture is too dry, add 2 more tablespoons of Worcestershire sauce. Cook in the raisins when the meat is three-fourths cooked. Set aside.
 
4 Slice saging na saba lengthwise and fry in oil until golden. Set aside.
 
5 Place rice on a plate, add ground beef mixture, fried bananas, and fried egg on the side.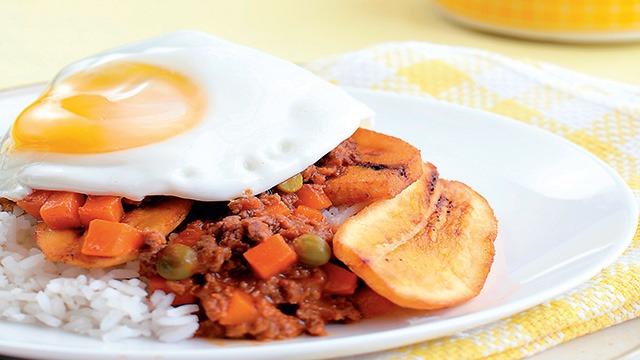 Arroz a la Cubana
Posted in:
Recipe