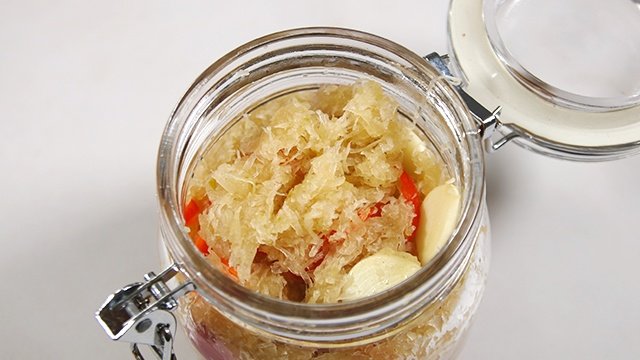 This pickled green papaya recipe is a Pinoy favorite! Pair it with tapa and grilled meats.
4 cups green papaya, peeled
2 to 4 tablespoons rock salt
1/2 cup vinegar
1/3 cup brown sugar
1/3 cup white sugar
1 red bell pepper, sliced
1 head garlic
20 pieces red shallots
1 carrot, sliced
salt and ground black pepper, for seasoning
1 Peel and shred green papaya into strips using a grater.
2 Add the coarse salt and mix until well-combined.
3 Mash and squeeze shredded papaya to extract juice with the help of a strainer or cheese cloth. Set aside.
4 In a sauce pot, add vinegar, brown sugar, and white sugar. Allow mixture to boil.
5 Add the papaya, bell pepper, garlic, ginger, carrots, and shallots. Mix until well-combined then let the mixture boil for 2 to 3 minutes.
6 Transfer atsara into sterilized containers.