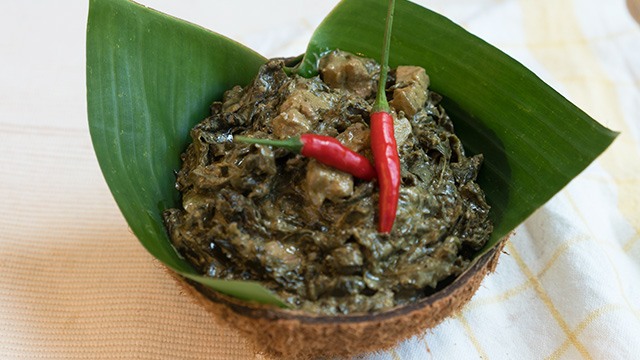 Photo from yummy.ph
Laing is a classic Bicolano dish made from dried gabi leaves, coconut milk, and siling labuyo. It's well known for its distinct taste—the contrast of creaminess from the milk, and heat from the chili peppers.
It doesn't take a lot to make an authentic Bicolano laing. All you need are the freshest ingredients, like good quality pork and gabi leaves. Although you can use canned coconut milk, it's still best to go for kakang gata or that first squeeze from shredded coconut. You also have to make sure not to stir it after you've added the gabi leaves. Just let it simmer over low heat until all the flavors come together. You can check out the recipe here.
You can also learn more about this dish from The Kris List. In this list, the Queen of All Media learns about new things and tries new adventures with friends and family.
Watch as she learns how to cook authentic laing with renowned fashion designer, Bicolano, and laing expert Avel Bacudio.