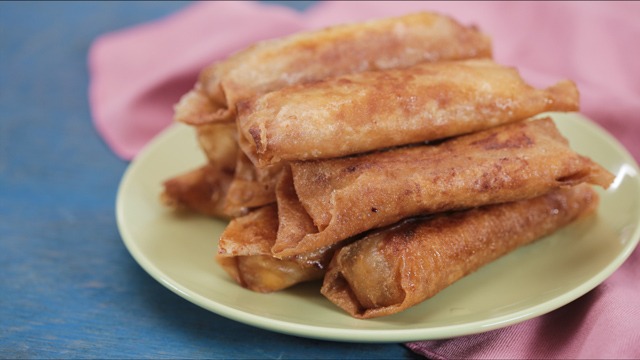 Turon has to be a favorite merienda food. It's filling, it's sweet, and it's crunchy, too. The caramelized sugar that results from cooking the sugar makes it even better. 
Many have upgraded the typical turon by adding langka and ube to make it different but how else can you make it stand out from the usual versions?  
The saba-banana-and-cheese combo is one you need to try the next time you make turon for merienda. It's got a salty-sweet kick that may sound weird – bananas and cheese?! – but it's a great combination that you might just love. 
Banana Cheese Turon Recipe
Takes 30 minutes plus freezing
Makes 12 turon
12 large lumpia wrappers, separated
6 saba bananas, sliced in half lengthwise
12 sticks quickmelting cheese, frozen
1 cup brown sugar, more as needed
Cooking oil, for shallow frying
1 Place 1 lumpia wrapper on a clean work surface.
2 Roll saba in brown sugar then place it, cut side up, on the bottom third of the lumpia wrapper. Top with a stick of cheese. Fold sides to enclose banana and cheese, roll, and seal end with water. Set aside.
3 Repeat for the remaining lumpia wrappers. Freeze for at least 10 minutes.
4 Meanwhile, heat a frying pan over medium heat with enough oil to reach halfway up the sides. Deep fry around 3 to 4 turon until golden brown on all sides. (You can sprinkle more sugar on top of each turon as it fries to caramelize on the wrapper if desired.) Remove from the oil and drain on paper towels. Repeat with remaining turon and serve while hot.
Here are more turon recipes you will want to try: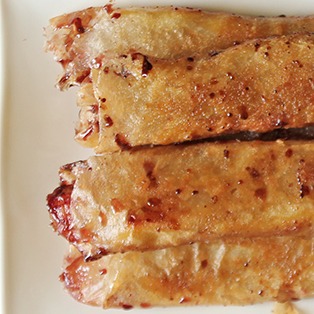 WATCH: How to Make Turon
Posted in:
Cooking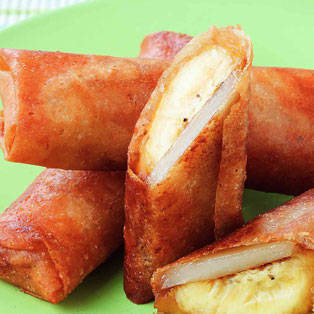 Tikoy-Langka Turon Recipe
Posted in:
Recipe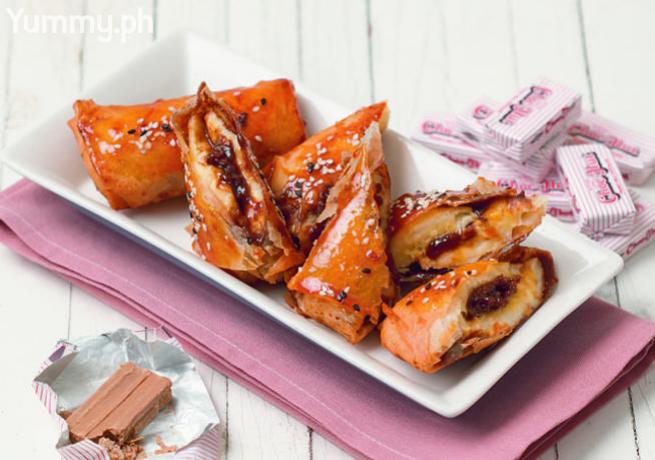 Chocnut Turon Recipe
Posted in:
Recipe