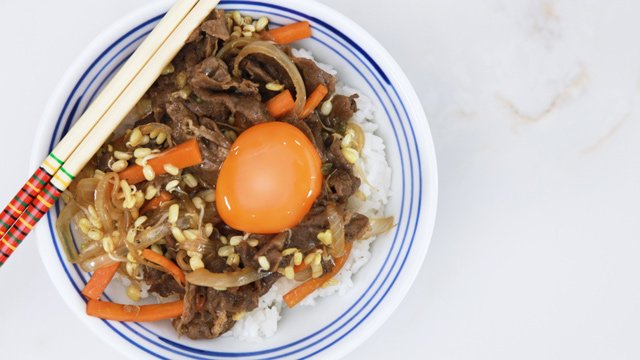 This Japanese stir-fry comes together in minutes! Remember to serve immediately once you top your rice bowl with the egg.
2 tablespoons soy sauce
1 teaspoon sesame oil
1 teaspoon sugar
salt
pepper
1/2 kilo beef, (use sirloin cut), sliced sukiyaki-style
1 tablespoon vegetable oil
3 tablespoons butter
2 cloves garlic, minced
1 medium white onion, sliced thinly
1 medium carrot, julienned
1/3 cup bean sprouts (togue)
4 cups rice, steamed
4 medium eggs, for topping
1 Combine soy sauce, sugar, sesame oil, salt, and pepper in a bowl. Mix well. Marinate beef in mixture for at least 20 minutes or overnight.
2 Heat oil and butter in a pan over medium heat. Stir-fry garlic, onions, carrots, and togue for 2 to 3 minutes. Push vegetables to the side. Increase heat. Add beef; sauté for 1 to 2 minutes. Toss everything together; stir-fry until beef is cooked. Season with salt, pepper, and sesame oil.
3 Divide rice among 4 bowls. Top with beef mixture and eggs while hot. Serve immediately.
ALSO READ: