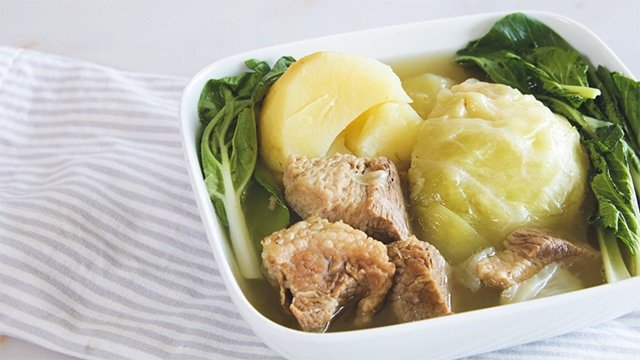 Beef Nilaga is a classic Filipino soup dish that is very easy to prepare. This one-pot soup recipe contains beef and vegetables like potatoes, cabbage, and pechay leaves. It uses basic ingredients that you can easily find in groceries.
4 cups water
1/2 kilo beef brisket, cut into 2-inch cubes
2 medium onions, quartered
1-2 pieces potatoes, quartered
1 teaspoon peppercorns
4 tablespoons fish sauce
1 piece cabbage, quartered
1 bundle pechay leaves
season with salt
1 In a big casserole, place beef and pour in water. The water level should be just above the meat. Bring water to a boil and let it simmer for 10 minutes then remove scum (frothy fat) on top while simmering.
2 Add onions, cover, and simmer for 1 to 1 and 1/2 hours or until beef is tender.
3 Add potatoes and continue to simmer until potatoes are cooked.
4 Add peppercorns, fish sauce, cabbage, and pechay leaves. Season with salt, to taste.
TIP: Use a pressure cooker to make the beef tender, it also cuts the cooking time by half.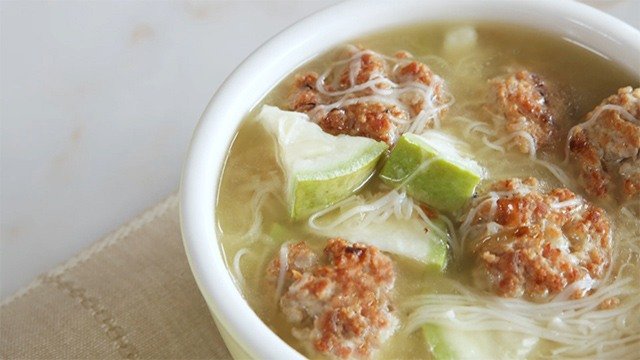 WATCH: How to Make Misua Soup
Posted in:
Cooking