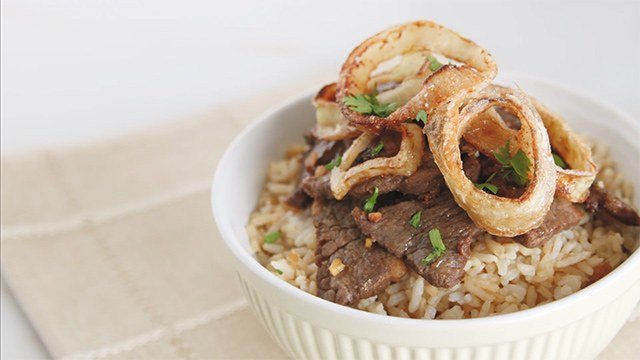 Bistek is a Filipino-style beef steak that pairs perfectly with lots of rice. For this version of bistek, the onions are dredged in cornstarch and fried separately but you may also opt to cook it in with the beef until softened. To make the best rice bowl, fry the rice in the same oil the beef steak was cooked in for extra flavor!
3/4kg beef, (use sirloin cut), sliced thinly and pounded
1/4 cup soy sauce
2 tablespoons calamansi juice, or juice from 1 lemon
1/2 teaspoon black pepper
1 cup white onion, sliced into rings
2 tablespoons cornstarch
oil, for frying
3 tablespoons butter
2 tablespoons garlic, crushed
3 cups white rice, cooked and cooled
2 tablespoons garlic, minced
cilantro (wansoy), chopped, to garnish
1 Marinate beef in soy sauce, calamansi juice, and pepper, covered, in the refrigerator for at least 1 hour.
2 Heat vegetable oil in a pan over medium heat. Toss onions in cornstarch until well coated. Fry onion rings until crisp and golden. Drain on paper towels and set aside.
3 Melt butter in a large pan over medium heat. Fry marinated beef until browned. Add garlic and sauté for 15 to 20 minutes. Set aside and keep warm.
4 Make the bistek rice: Add rice to the pan where the beef was cooked; toss until heated through. Cook for 5 minutes, stirring continuously to prevent rice from sticking to the pan. Remove from heat and mix in butter.
5 Serve bistek over fried rice. Top with onions and garnish with cilantro.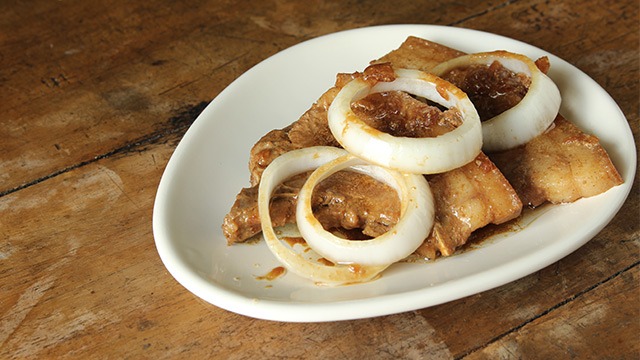 WATCH: How to Make Pork Steak
Posted in:
Cooking