When it comes to easy seafood dishes packed with flavor, this recipe should be on your radar. Fish steaks are cooked in shrimp paste (bagoong) and coconut milk, and is packed with creamy and savory flavors. Serve the sauce on the side, drizzled over your fish, or you can also let the fish simmer in it before serving. 
Binagoongan Isda sa Gata
Prep time 5 minutes
Cooking time 15 minutes
Serves 3-4
2 tablespoons cooking oil
3 cloves garlic, chopped
1 medium red onion, sliced
/3 cup tomatoes, sliced into strips
1 tablespoon ginger, sliced into strips
4 teaspoons shrimp paste (bagoong alamang)
1 to 2 pieces green chilies (siling pangsigang)
1/2 cup coconut cream
1/2 cup coconut milk
ground black pepper, to taste
ground black pepper, to taste
1 kilogram tanigue steaks
1 Season fish steaks with salt and pepper and set aside.
2 Prepare the sauce by heating up oil in a saucepan over medium high heat. Saute garlic, onions, ginger, tomatoes for one minute then add bagoong and sauté for another minute or two. Add the sili, coconut cream, and coconut milk and allow to simmer for 1-2 minutes, season to taste.
3 Heat oil in a pan over medium heat. Fry fish steaks for 4-5 minutes each side or until cooked and nicely brown and set aside to drain on paper towels.
4 Pour sauce over cooked fish. Or, you may also simmer the cooked fish in the sauce for a few minutes, if desired.
SEE OTHER RECIPES: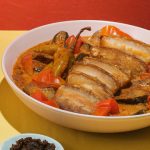 Lechon Kawali Binagoongan sa Gata Recipe
Posted in:
Recipe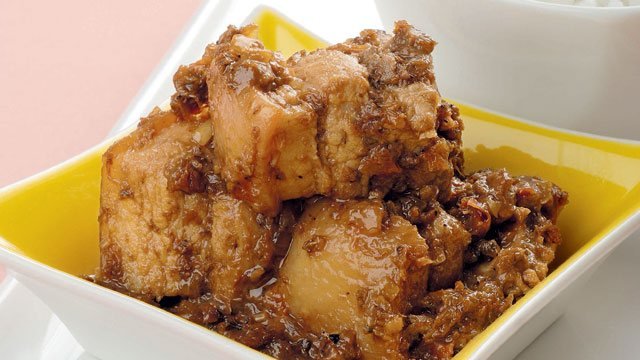 Pork Binagoongan sa Gata Recipe
Posted in:
Recipe