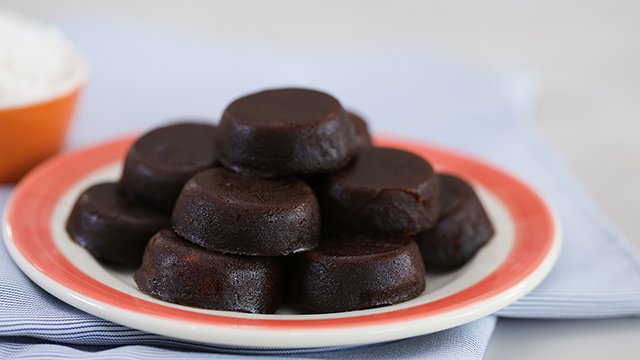 Molasses is the secret ingredient in these black kutsinta pieces. Its earthy, sweet, umami flavor gives it its distinctive color while imparting deep sweet flavors.
If you love the flavor of molasses, feel free to increase the amount to as much as 1/4 cup to deepen the color and the flavor of your kakanin. Serve with niyog or even caramel sauce on the side!
Black Kutsinta Recipe
Takes 40 minutes
Makes 24 mini cakes
Black Kutsinta Ingredients
1/4 cup glutinous rice flour
3/4 cup all-purpose flour
1/2 cup sugar
1/4 teaspoon salt
1/2 teaspoon baking soda
1 1/4 cups water
2 tablespoons molasses
Oil, as needed
Niyog, to serve
How To Make Black Kutsinta
1 Prepare a steamer. Lightly grease the metal mini molds with oil. Set aside.
2 In a bowl, mix rice flour, flour, sugar, salt, and baking soda using a whisk. Make a well and pour in water and molasses. Whisk until the flour mixture is completely dissolved and the mixture is smooth.
3 Using a measuring cup with a spout, pour kutsinta mixture into the prepared molds until about 3/4 full. Place filled molds in the prepared steamer.
4 Steam kutsinta for 10 minutes or until the kutsinta are cooked through and translucent throughout. Remove from the steamer, and let set until just warm before removing from the molds and completely cool on a plate. (Kutsinta will be delicate and sticky until slightly cooled.)
5 Stir remaining batter to remix any ingredients that may have settled on the bottom and repeat until all the kutsinta is cooked.
6 Serve kutsinta with grated fresh coconut (niyog).