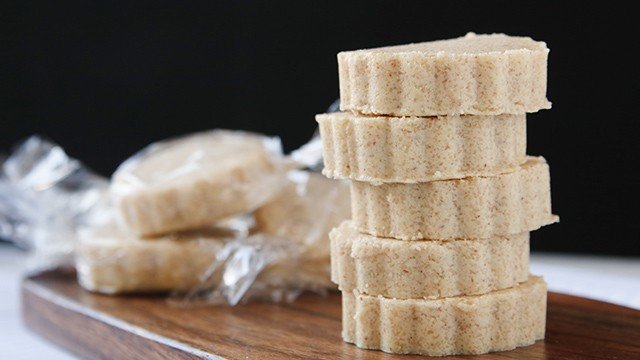 Brown butter is the secret ingredient to making this polvoron extra delicious. Make brown butter by melting butter over medium heat using a light-colored pan (to help you see the color), making sure to watch over it as it melts. Swirl the butter until it foams and turns to a light toasty-brown color. It will have a nutty aroma and adds a layer of flavor to this Filipino treat.
3/4 cup unsalted butter
1 1/4 cups powdered milk
3/4 cup caster sugar (available in all major groceries)
1 3/4 cups cake flour
1/4 cup almond flour* (available in Healthy Options)
1 Make the brown butter: Melt butter in a small saucepan over low heat until it gives out a nutty flavor and color changes to light brown, about 8 to 10 minutes.
2 Combine sugar and powdered milk in a bowl; set aside.
3 Place flour and almond flour in a pan; mix well. Toast over low heat for about 8 minutes or until golden brown and smells like toasted bread. Stir continuously to prevent flour from burning. Add flour mixture to milk mixture; mix well. Set aside.
4 Add butter to the flour mixture. Stir with a wooden spoon until well incorporated and texture resembles wet sand.
5 Using a polvoron mold, shape the polvoron and carefully place on a plate. Wrap individually in cellophane to give away as presents or store in an airtight container. These will keep for 1 week at room temperature or 2 weeks in the refrigerator.
*Note: to make your own almond flour, grind whole, unroasted nuts in a food processor until smooth and powdery.