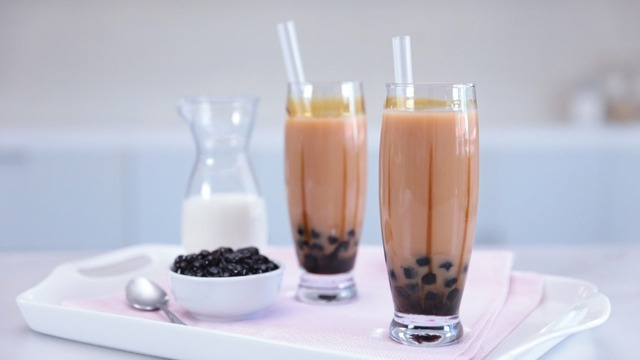 We get it. The brown sugar milk tea is a delicious drink that is sweeping the metro by storm. Dare to hack your way to making your own brown sugar milk tea at home? This version is just as delicious! 
The key to the drink is really the brown sugar syrup. We used muscovado sugar and cooked it into an intense dark brown syrup that may look like and have the texture of molasses but doesn't have the bitterness or tannic quality that molasses sometimes has. Instead, it's got a deep, caramelized sugar flavor that you can only get with natural brown sugar. 
Brown Sugar Milk Tea Recipe
Takes 15 minutes
Makes 6 servings 
1 cup muscovado sugar
1/2 cup water
8 black tea bags
4 cups hot water
1 cup fresh milk 
1 cup black tapioca pearls, cooked according to package directions
2 cups ice cubes, or as needed
1 In a saucepan, mix sugar and water and bring to a boil over medium heat. Simmer until the mixture thickens. Pour into a squeeze bottle and set aside to cool completely.
2 Pour hot water over tea bags in a large pitcher. Steep for 5 minutes. Remove tea bags, and stir in milk. Add ice, and stir to cool the tea.
3 When ready to serve, spoon cooked pearls into a tall glass. Line the sides of a glass with the brown sugar syrup using the squeeze bottle. Pour in prepared milk tea and top with ice as desired. Serve immediately.
Not a fan of black tea or brown sugar? Try these versions too: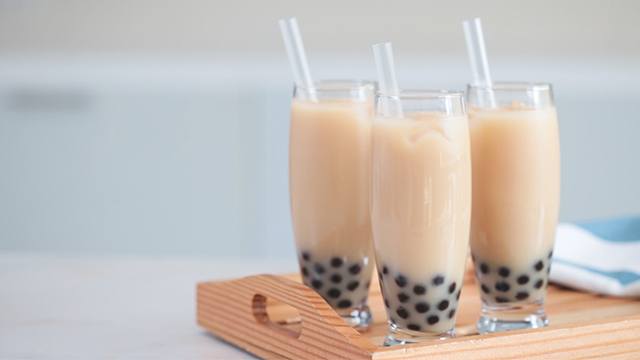 WATCH: It's Easy to Make Milk Tea at Home
Posted in:
Cooking
ALSO READ: 
ADVERTISEMENT - CONTINUE READING BELOW
Recommended Videos