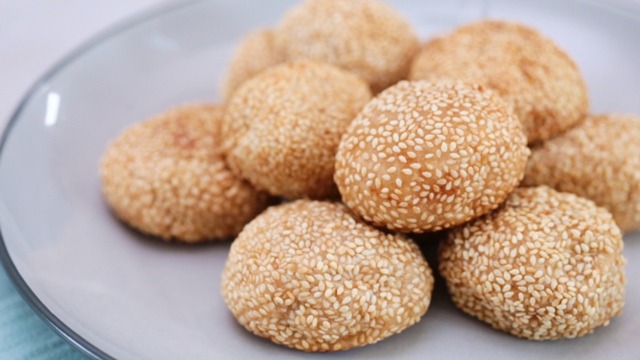 Buchi is a chewy snack made of fried glutinous rice flour and a sweet bean paste (monggo) filling. This rice cake has Chinese origins but is also popular in the Philippines. It's delightfully chewy and is a great snack! 
Buchi Recipe
Prep time 10 minutes
Cooking time 40 minutes
Makes 9-12 pieces
For the Mung Bean Filling: 
1 cup mung beans
water for boiling
½ cup sugar
3/4 cup water
¾ cup brown sugar
3 cups glutinous rice flour
1 cup sesame seeds
oil for deep frying
1 Make the mung bean filling: In a pot over medium heat, combine beans and about 2 cups water. Cook for about 20 to 30 minutes or until tender. Strain the cooked mongo twice. Add sugar until combined. Set aside to cool.
2 In a pot over medium heat, bring the water to a boil. Remove from heat and transfer to a bowl. Add brown sugar and stir until dissolved. Allow to slightly cool.
3 In a big bowl, place flour. Make a well in the center and pour half of the sugar water. With a spatula, stir to moisten flour. Add the rest of the water. Combine the flour mixture and form into a dough.
4 Roll into balls, it should be smooth and without cracks.
5 Using fingers, flatten each dough ball into a sphere of about ¼-inch thick and 4-inches in diameter. Place mung bean filling in the center and gather edges of dough around filling.
Pinch dough together to completely seal, roll repeatedly into a smooth ball with no cracks.
6 Gently roll balls in sesame seeds until fully coated, pressing lightly to make sure seeds stick well to the dough. Repeat with remaining buchi balls.
7 In a medium-sized pot, deep fry balls for about 6 to 7 minutes or until golden brown and begins to float to the top. Remove from pot and drain on paper towels.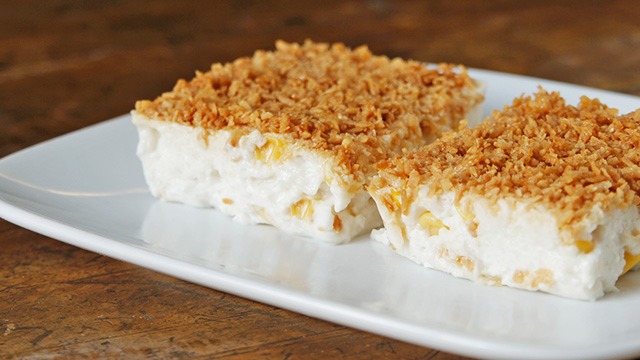 WATCH: Our Best Kakanin Recipes
Posted in:
Cooking
ADVERTISEMENT - CONTINUE READING BELOW
Recommended Videos