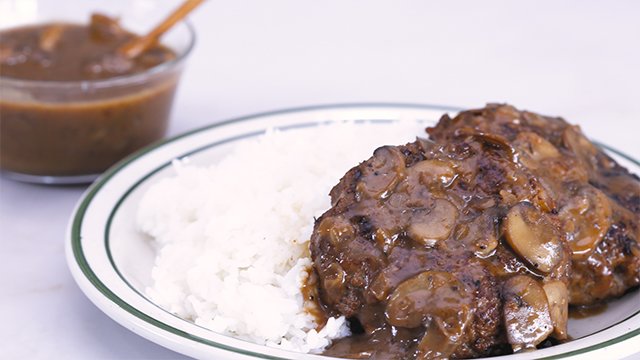 This is a popular Pinoy flavor combination: burger patty, rice, and mushroom gravy! Who doesn't love a delicious burger steak meal? Learn how to make a burger steak meal from scratch. It's super easy!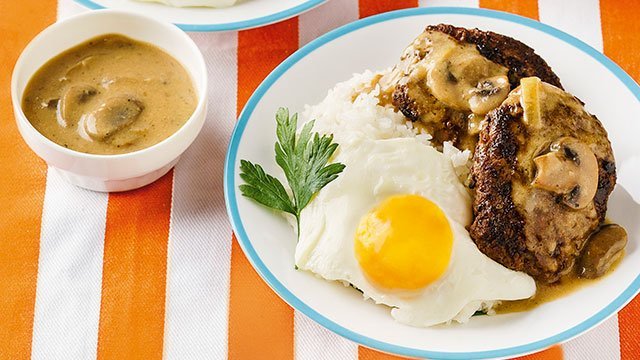 Burger Steak with Gravy Recipe
Posted in:
Recipe
Burger Steak with Gravy Recipe
Prep Time 15 minutes
Cooking Time 30 minutes
Serves 4
To make the burgers:
500 grams ground beef
1/2 medium white onion, chopped
1 large egg
2 tablespoons fresh milk
3 tablespoons soy sauce
2 teaspoons brown sugar
1/2 teaspoon salt
1 teaspoon ground black pepper
To make the mushroom gravy:
1 tablespoon vegetable oil
1 tablespoon butter
1/2 medium white onion, sliced
125 grams fresh white button mushrooms, sliced
1 (411-gram) can beef broth, about 1 3/4 cups
1 tablespoon soy sauce
3 tablespoons fresh milk
1 tablespoon cornstarch, dissolved in 1 tablespoon water
Salt, to taste
Ground black pepper, to taste
Vegetable oil, for frying
1 Make the burgers: Combine the beef, onions, egg, milk, soy sauce, brown sugar, salt, and pepper in a bowl. Cover and refrigerate for 30 minutes or until ready to cook.
2 Make the mushroom gravy: Heat oil and melt butter in a saucepan over medium heat. Add onions and sauté until lightly browned. Add mushrooms and cook for 1 minute. Add broth, soy sauce, and milk. Bring to a boil then lower heat and simmer for 2 to 3 minutes. Add cornstarch mixture and simmer until slightly thick, about 5 minutes. Season to taste with salt and pepper. Remove from heat. Set aside and keep warm.
3 Heat oil in a frying pan over medium heat. Divide burger mixture into 4 portions and form into oval patties. Pan-fry until cooked and browned, about 3 to 4 minutes per side. Drain on paper towels.
4 Serve with rice and gravy.
ALSO READ:
ADVERTISEMENT - CONTINUE READING BELOW
Recommended Videos