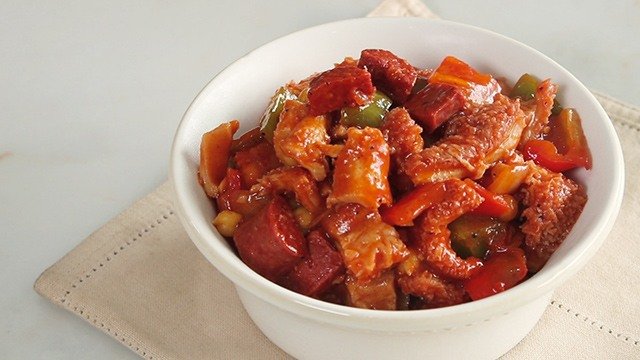 Callos or ox tripe stew is a Spanish-Filipino recipe made of ox tripe, chorizo, and veggies cooked in a delicious tomato-based sauce. The key to tasty and tender callos is cooking the ox tripe slowly over medium-high heat.
1 kilogram ox-tripe, cleaned and cut to 1/2-inch squares
water to cover the meat
3 tbsp olive oil
6 cloves garlic, finely chopped
1 piece white onion, sliced into chunks
4 pieces Spanish chorizo, sliced
2 tablespoons tomato paste
1 cup tomato sauce
¾ cup chickpeas
1 piece red bell pepper, chopped
1 piece green bell pepper, chopped
salt and pepper to taste
1 In a deep pot, place ox tripe and add enough water to cover the meat. Bring the water to a boil and allow ox tripe to cook slowly until tender. Remove meat from stock and reserve stock.
2 In a preheated pot with oil, sautè garlic and onion over medium heat. Add the sausages, ox tripe, tomato paste, and tomato sauce. Stir mixture, then add the stock. Continue stirring until the liquid starts to simmer, then add the chickpeas and bell peppers. Cook until sauce has reduced. Season with salt and pepper.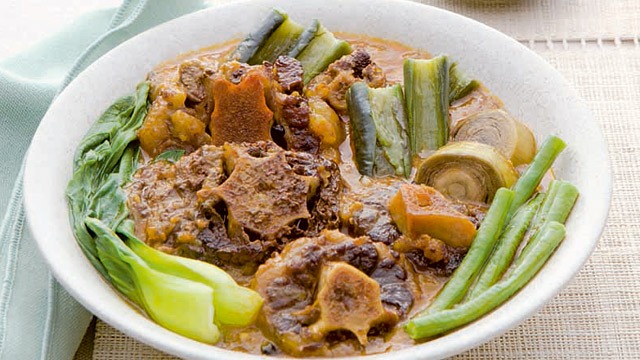 How to Make Kare-Kare (Peanut Stew)
Posted in:
Cooking