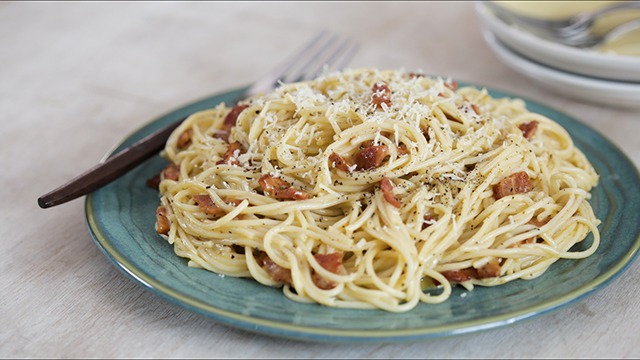 The trick to making a delicious carbonara isn't just the ingredients. It's about using the ingredients you love to eat. Many people love the Pinoy-style carbonara recipe that is incredibly creamy and loaded with bacon. 
However, if you want to try a more authentic carbonara pasta recipe that doesn't use any cream but uses eggs and cheese to make it creamy, you should try this easy recipe. 
The technique to this easy carbonara pasta sauce is really how you treat the eggs. The eggs are the main ingredient in the sauce and acts as both the binder as well as main flavor of the sauce. That means you have to treat it right or else, you'll have scrambled eggs with your pasta instead of a richly flavored and saucy pasta. 
The trick? It's tempering the eggs before pouring it into the hot pan with the hot pasta and hot bacon. 
You'll need to watch the video to see what we mean, so here's the recipe to get you excited enough to go and prepare all the ingredients you need to make it: 
Carbonara Pasta Recipe
Takes 20 minutes
Makes 4 servings
400 grams dried spaghetti
salt, as needed
water, as needed
3 large eggs
2 large egg yolks
1 cup Parmesan cheese, grated
1 teaspoon freshly ground black pepper, more to taste
250 grams thick-cut bacon, chopped
1 Bring a big pot of water (about 2 liters) to a boil. Season with salt. Once boiling, lower heat to a simmer and add pasta. Let cook 8 minutes. Reserve 1 cup pasta water. Drain.
2 Meanwhile, in a large nonstick pan over medium heat, add bacon and cook until crispy and fat has rendered out, stirring regularly.
3 Meanwhile, in a medium bowl, beat eggs and yolks. Whisk in grated cheese and pepper. Set aside.
4 Transfer cooked pasta using tongs into the pan. Toss to mix. Set aside 3 minutes.
5 Meanwhile, add 1/4 cup hot pasta water to the egg mixture and whisk to combine. Gradually pour egg mixture over the hot pasta in the nonstick pan. Immediately stir to coat. If the mixture is too thick, add more pasta water as necessary to create a sauce. Serve while hot with more Parmesan cheese as desired.
ALSO READ: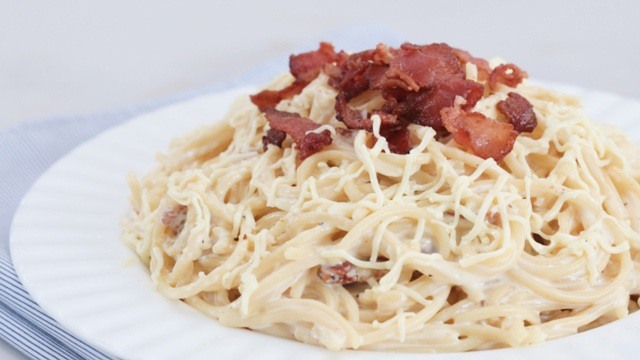 WATCH: How To Make Pinoy-Style Carbonara
Posted in:
Cooking
ADVERTISEMENT - CONTINUE READING BELOW
Recommended Videos