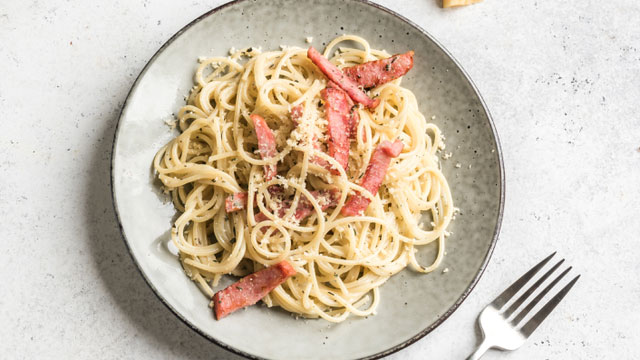 There are two schools of people who will argue what a carbonara is: those who believe only eggs should be used to make the creamy pasta dish and those who find that eggs don't make it creamy enough which is why they use real cream to make the pasta sauce. 
There is no real winner or loser in this debate. Both will result in an appetizing and delicious plate of pasta with a creamy sauce studded with pieces of smoked pork bits and sometimes, green peas. (You can totally skip the peas if you're not into them. No judgment!) 
However, there is another way that we think would result in an even better carbonara. Care to find out? 
Here are the three ways to make carbonara and the essential tip (or three!) you need to know to make the pasta dish successful every time: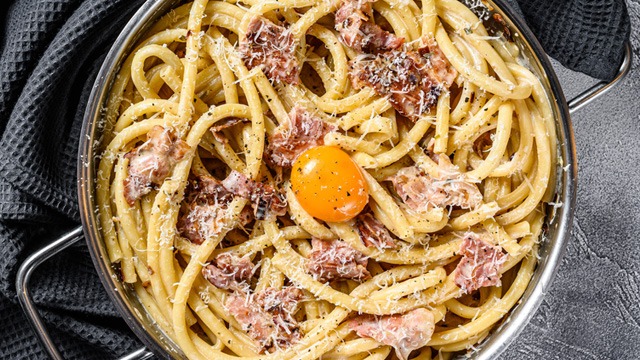 1 If you use eggs, remember to mix the pasta and eggs off the heat.
Those who believe carbonara should be made with eggs know that it's a delicate balance of heat and mixing that creates the sauce that makes this dish irresistible. The trick is really being able to temper the heat so that the egg mixture doesn't turn into scrambled eggs but instead emulsifies into a creamy consistency. 
It's a juggling act that transforms the eggs and cheese into a sauce! 
To achieve this, we highly recommend that you always add the hot pasta to the eggs off the heat. This not ensures that you can mix the pasta and the egg mixture together without worrying about it clumping up but you can do it safely. No need to rush the tossing before it's too late. Only when you're confident the heat is not enough can you place it back on the stove to gently warm over low heat to get it to the consistency you want.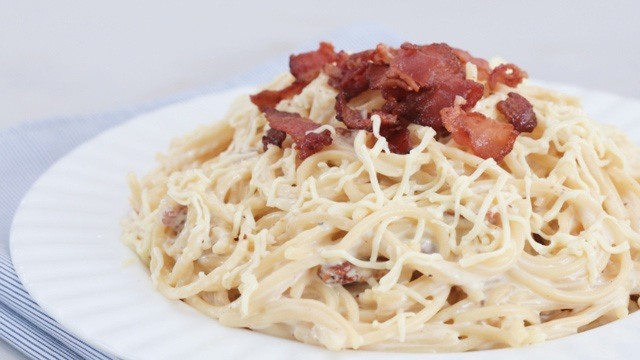 2 Use all-purpose cream but make a roux to prevent it from disappearing. 
You know you're a cream fan when you're addicted to the Pinoy carbonara version. This version is super easy to make but have you ever experienced eating a creamy carbonara that later looks like it's just pasta on your plate? The sauce "disappears" when you save it for later. That's because if you used just cream to create the sauce, the pasta has a tendency to absorb the cream, leaving you with a pasta dish with no more sauce! 
ADVERTISEMENT - CONTINUE READING BELOW
Recommended Videos
To fix this and extend the life of your sauce so you can have delicious leftovers, make a roux using just 1 tablespoon each butter and all-purpose flour before you add the cream. This will help your creamy sauce not be completely absorbed by the pasta so you can have the same creamy carbonara pasta you had earlier for dinner later.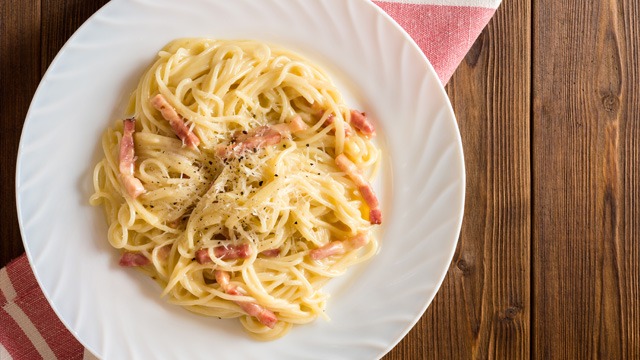 3 Use both eggs and cream to make the sauce.  
If you love eggs and cream, this trick is what you need to learn to make an awesome carbonara that satisfies both egg and cream lovers. It's no secret that adding cream will help the eggs form a creamy sauce while the eggs will give a richer and more flavorful taste to a cream sauce. 
That's why it's a genius idea to mix the two recipes together and use both eggs and cream to create a sauce that's the best of both carbonara pasta worlds. Here's how to do it: 
1 Bring a pot of water to a boil. Season with salt. Cook 400 grams spaghetti pasta as the recipe directs. Reserve pasta water and drain. Keep pasta warm. 
2 Meanwhile, cook 5 to 7 slices bacon, chopped, in a large sauté pan, adding 1 to 2 tablespoons oil as needed if the bacon is too lean to render enough fat. Remove and set aside bacon bits.  
3 In a large bowl, beat together 3 large eggs, 1/2 cup Parmesan cheese, grated, and salt to taste. Add freshly cooked pasta to the eggs and toss. Add 1/2 cup all-purpose cream to the mixture. Season with ground pepper to taste. Add reserved pasta water to loosen the sauce so it's not too thick.  
4 If needed, place back on the stove over low heat, stirring, to gently reheat the mixture before serving immediately. 
What's your favorite way of cooking carbonara? 
***