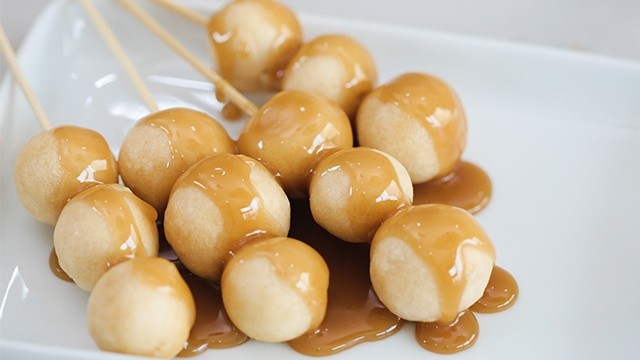 Carioca refers to deep-fried rice flour balls coated in a sweet, sticky sugar-coconut milk syrup. You can recreate this Pinoy street food favorite at home! Frying tip: make sure to fry using medium heat and you can pierce the rice balls so they don't get extremely hot inside. 
1 cup sweet rice flour
1/2 cup water
oil, for frying
3/4 cup brown sugar
1/2 cup coconut milk
1 In a bowl, mix the rice flour and water together until it forms into a ball.
2 Scoop a small portion and form into 1 inch-size balls. Repeat until you finish the mixture. Set aside.
3 In a medium-sized frying pan, fry the balls in hot oil over medium heat, for around 3 minutes per batch. Drain and skewer pieces using barbecue sticks. 
4 Make the sauce: In a small saucepan, combine brown sugar and coconut milk, and heat until sauce is thick. Pour over the skewered carioca.