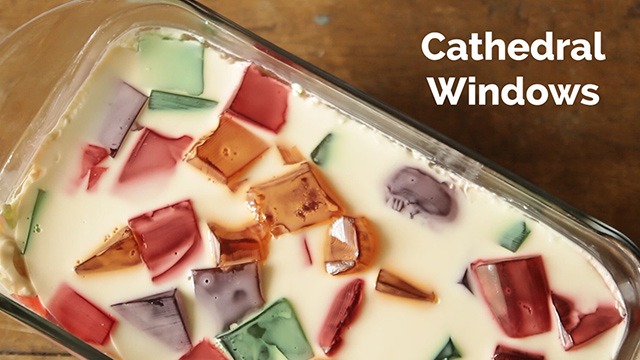 .
This Filipino dessert is a fun panna cotta and gelatin treat with sweet and tart flavors. Try this cathedral windows recipe at home and feel free to tweak the sweetness to your liking by adding more sugar. Want to make it extra colorful? You can use more packs of gelatin with fun and different flavors. Kids can join in the fun too by making miniature versions and choosing their favorite colors to add into the mix. This is one dessert that is sure to turn heads! This recipe make about two 5×8-inch dishes and can be shared with family and friends in your next gathering.
Cathedral Windows Recipe  
Makes two 5×8-inch dishes
3 packs gelatin (of your desired flavor and color)
3 cups hot water
1 1/2 cups cold water
2 cups water
2 tablespoons unflavored gelatin
350 ml evaporated milk
500 ml all-purpose cream
1/2 cup white sugar
How to make Cathedral Windows
1 Mix 1 pack gelatin, 1 cup hot water, and 1/2 cold water. When ready, pour each color/flavor into its own square container and refrigerate until set or for atleast 4 hours. Repeat with the other gelatin packs. 
2 Make the cream-gelatin mixture: Using a medium-sized pot over medium heat, add 1 cup water and unflavored gelatin. Once simmering, add 1 cup water. Add evaporated milk, all-purpose cream, and sugar.
4 Take out from the heat, transfer to a bowl and let cool for 30 minutes to an hour.
5 Slice chilled gelatin into cubes. Add cubed gelatin into the cream-gelatin mixture. Mix.
6 Pour into molds (we used two 5×8-inch dishes). Remove bubbles, if any, on the surface. Refrigerate for atleast 4 hours. Serve chilled.
ALSO READ:
ADVERTISEMENT - CONTINUE READING BELOW
Recommended Videos