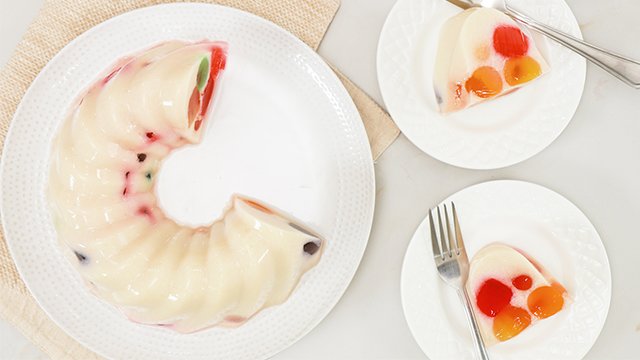 Deceptively simple, the colorful cubes interspersed in the milky gelatin dessert of this Cathedral Windows are store-bought jelly. No one needs to know that it's not completely made from scratch.
Cathedral Windows
Takes 20 minutes plus chilling
Makes 24 servings (8-inch bundt pan)
1 bag jelly candy, unmolded
2 pouches (25 grams) clear, unflavored gelatin
3 cups water, divided
1/4 cup sugar
3/4 cup condensed milk
1 cup evaporated milk
1 Place into a bundt pan the jelly candy, mixing the colors, until layers of the gelatin cubes are formed. Set aside.
2 In a medium saucepan, dump in contents of the clear gelatin pouch. Add sugar, water, condensed milk, and evaporated milk. Stir to dissolve. Place over medium heat, and cook, stirring, until thickened and about to boil. Remove from heat. 
3 Pour mixture into the gelatin in the bundt pan. Stir to mix. Remove any bubbles that may form on the surface. Refrigerate until cold and firm, overnight or at least 4 hours.
4 Once firm, cut into slices, and serve while cold.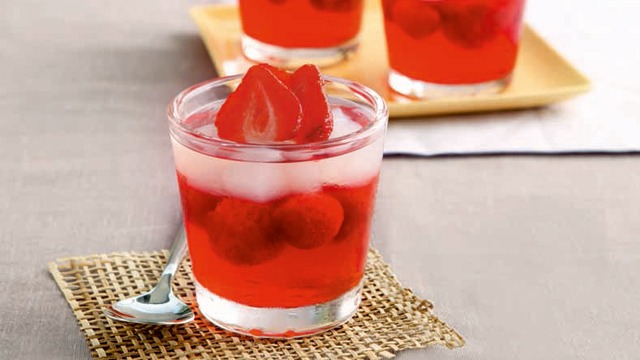 Summer Gelatin Recipe
Posted in:
Recipe