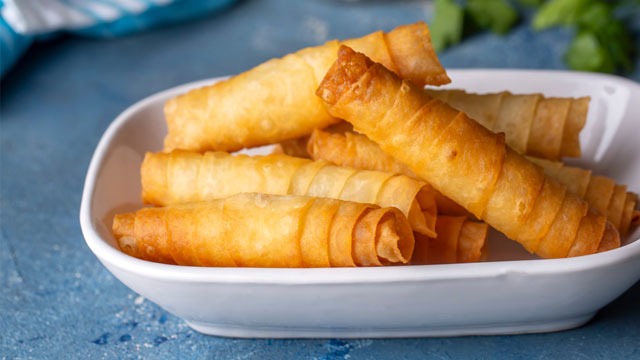 Think of snacks and one of those merienda faves has to be the cheese stick. This crispy lumpia that's stuffed with melty cheese is simple yet addictive. Cheese sticks, however, may sound like it's easy to cook but you may end up with cheese oozing out of its crispy wrappers before you even take it out of the frying pan. 
The most important thing you need to remember about cheese sticks is that you need to freeze or refrigerate the sticks before cooking them. Why? To prevent the cheese from wiggling its way out of the lumpia wrapper. The trick here is to crisp up the lumpia wrapper without making the cheese completely melt. That's where freezing or chilling these cheese sticks help. Cold cheese won't bubble up while frying. This crucial step will keep the cheese from oozing out before you've bitten into one. 
Now that you know how to cook cheese sticks that won't be missing the cheese inside them, you can learn how to make cheese sticks that are both creamy and stretchy. You need two types of cheese because it's hard to find a cheese that's a contrasting combination of creamy and stretchy. To do this, you need to use two kinds of cheese:
• a stretchy cheese like mozzarella, Gruyère, raclette, or Provolone
• a quick-melting cheese such as cheddar, American cheese, or processed cheese 
These are two ways to stuff the cheese into lumpia wrappers: 
1 Use strips of cheese. 
You can cut strips of cheese thin enough to fit in the lumpia wrappers. You'll need enough strips of both kinds of cheese so you can enjoy both textures when it's cooked. 
2 Grate the cheese and form logs. 
You can also grate the two kinds of cheese and then form these into thin logs in the lumpia wrappers. It's easy to form since grated cheese is soft and malleable. One advantage of grating the cheese is that it makes it easy to add other ingredients in the cheese such as chopped jalapeños and other chilis for a dynamite lumpia or a cheesy ground meat version. 
Watch how easy it can be to make cheese sticks into fantastic merienda snacks with these videos, plus great ideas on how else you can use those extra lumpia wrappers once all the cheese is used up: 
*** 
ADVERTISEMENT - CONTINUE READING BELOW
Recommended Videos