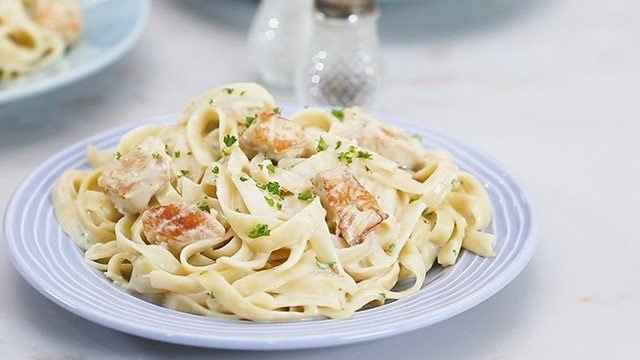 Move over, carbonara! If you love any pasta dish that's tossed in a cheesy, creamy sauce with chunks of chicken, then this is the dish you should be making. It's fast, easy, and definitely a pasta dish you'll want to make over and over again.
Chicken Alfredo Pasta Recipe 
Cooking time 20 minutes
Makes 4 servings
400 grams fettuccine pasta
1 tablespoon butter
2 tablespoons oil
5 large cloves garlic, peeled, finely chopped
1/2 chicken bouillon cube
2 chicken breast fillets, cubed
1 tablespoon all-purpose flour
1/2 cup water
1/2 cup Parmesan cheese, grated
1 cup all-purpose cream
1/4 cup fresh parsley, chopped
Salt, to taste
Ground black pepper, to taste
1 Bring a pot of salted water to the boil. Cook pasta according to package directions. Reserve about 1/2 cup pasta cooking water, drain pasta, and keep warm.
2 Meanwhile, in a sauté pan over medium heat, melt butter and heat oil. Add garlic and bouillon cube, and stir until cube has dissolved. Add chicken and cook, stirring, until cooked through.
3 Sprinkle in flour then stir until flour is mixed in thoroughly. Pour in water. Stir until the flour is dissolved and simmer until thickened. Stir in Parmesan, pour in cream, and stir until mixed. Season to taste with salt and ground pepper. Bring to a simmer then turn off the heat.
4 Add then toss pasta and parsley into the sauce, adding pasta water as needed if the mixture becomes dry. Divide among 4 plates and grate more cheese on top of each. Serve immediately.