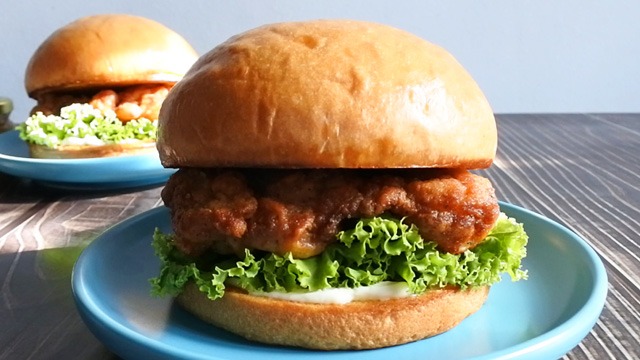 You can recreate your favorite chicken sandwich at home using this easy fried chicken fillet recipe and a delicious bun that instantly elevates your chicken meal up a notch! 
How did we do it? 
For a true fried chicken taste, we used buttermilk that's easy to make at home using fresh milk and vinegar. You can also use buttermilk powder and just dilute 1/4 cup powder into enough water to make 1 cup. If you need a substitute for the fresh milk, use any of these easy swaps to make 1 cup fresh milk:
• 1/2 cup evaporated milk + 1/2 cup water
• 1/4 cup powdered milk + 1 cup water
• 1/2 cup all-purpose cream+ 1/2 water 
Plus, we used a chicken thigh instead of a chicken breast fillet. While the breast fillet is meatier than the chicken thigh, the chicken thigh is juicier and cooks faster, too. Feel free to use a breast fillet for this recipe for that big fried chicken bite. 
Finally, we ordered brioche buns online so we didn't have to make it from scratch!
Here's the recipe: 
Chicken Sandwich Recipe 
Takes 30 minutes plus overnight marination 
Makes 6 servings 
1 cup fresh full-cream milk
1 1/2 tablespoons vinegar
6 chicken thigh fillets, skin on
1 cup all-purpose flour
1 teaspoon ground paprika
1/4 teaspoon ground cumin
1 teaspoon fried chicken seasoning
1/2 teaspoon ground black pepper, or to taste 
1 teaspoon salt, or to taste 
6 brioche buns, buttered and toasted, to serve
Mayonnaise, as needed to serve
Lettuce, as needed, to serve
1 In a large bowl, combine fresh milk and vinegar to make homemade buttermilk. Let it sit for 5 minutes to thicken. Add chicken and toss to coat evenly. Cover and set aside overnight.
2 To make the breading, whisk together flour, paprika, cumin, fried chicken seasoning, ground black pepper, and salt.
3 Add the marinated chicken and toss to coat in the flour well. Set aside onto a tray. (You can freeze this if cooking later.) 
4 When ready, heat enough oil in a frying pan. Use a thermometer to fry at the right temperature every time. Add the breaded chicken. Cook until golden brown and delicious on both sides. Set aside to drain on a rack.
5 To assemble, place a buttered and toasted bun on a plate, spread with mayonnaise, add lettuce and the chicken fillet on top. Finish with the top of the bun. Serve immediately. 
ADVERTISEMENT - CONTINUE READING BELOW
Recommended Videos