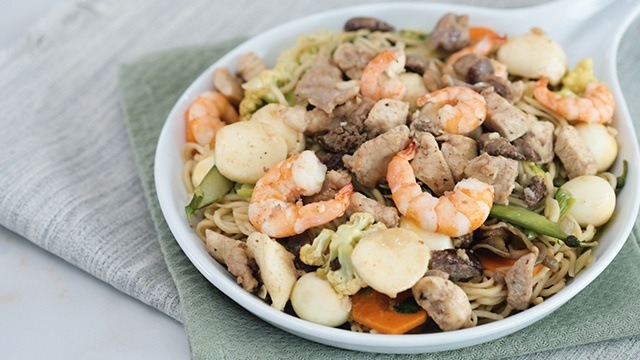 This noodle dish is also dubbed longevity noodles because it symbolizes long life. Serve this during birthdays and special celebrations—you can easily customize and add (or lessen) ingredients and include prawns, hardboiled eggs, and more. 
CHINESE BIRTHDAY NOODLES
Prep time 45 minutes
Cooking time 30 minutes
Serves 4-6
1 pack (200grams) pancit canton noodles
150 grams pork kasim, cubed
300 grams chicken breast, cubed
2 pieces chicken liver, cubed
2 pieces chicken gizzard, cubed
10 pieces squid balls, sliced in half
1/4 cup garlic, chopped
2 tablespoons Chinese wine
1 tablespoon sesame oil
salt, to season
pepper, to season
For the sauce:
2 tablespoons corn oil
80 grams shrimp, peeled and deveined
1/4 cup onion, sliced
2 tablespoons garlic, chopped
1 stalk leek, sliced
1 cup cabbage, sliced
1 cup Baguio pechay, sliced
1 bunch pechay Tagalog, sliced
1 head cauliflower, florets only
1/2 piece carrot, sliced into rounds
4 pieces dried wood ear mushrooms (tenga ng daga), soaked in water and drained
1/4 cup oyster sauce
1 tablespoon sugar
2-3 tablespoons soy sauce
1 cup chicken stock
14 pieces snow peas (sitsaro)
12 pieces quail eggs, (hardboiled), peeled
2 tablespoons cornstarch, dissolved in 2 tablespoons water
salt, to taste
pepper, to taste
1 In a bowl, mix together pork, chicken breast, liver, gizzard, and squid balls. Add garlic, Chinese wine and 1 tbsp sesame oil. Season with salt and pepper, mix well. Set aside and marinate for 20 minutes.
2 Boil water in a pot and cook pancit canton according to package directions; drain. Set aside.
3 Heat corn oil in a wok. Stir-fry the marinated meats for about 3-5 minutes; add shrimp and season with salt and pepper. Cook for another 2-3 minutes. Set aside.
4 In the same wok, add more corn oil, if needed. Sauté onions, garlic, and leeks. add cabbage, Baguio pechay, pechay Tagalog, cauliflower, carrots, mushrooms, oyster sauce, sugar, soy sauce, and 1 cup chicken stock as needed. Simmer, then add pancit canton.
5 Add sitsaro, quail eggs, cornstarch mixture, and remaining sesame oil; mix.
6 Transfer noodles to a platter and top with meat. Serve immediately.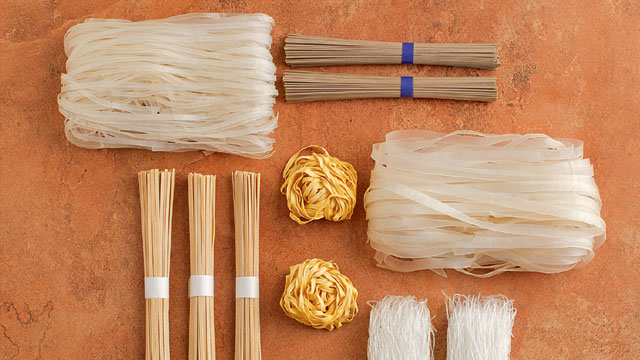 An Easy Guide to Asian Noodles
Posted in:
Cooking
ADVERTISEMENT - CONTINUE READING BELOW
Recommended Videos