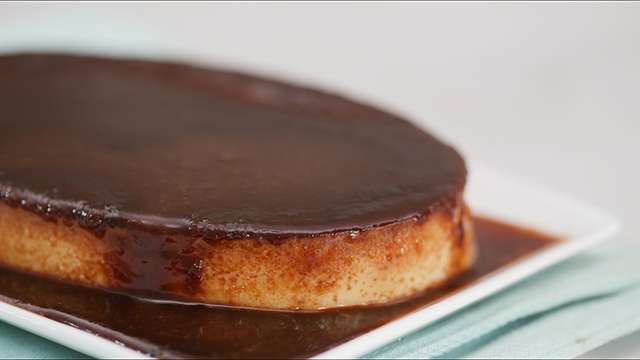 Leche flan+ chocolate caramel! This is one leche flan that's best served warm. 
Chocolate Caramel Leche Flan
Takes 50 minutes plus cooling
Makes 2 llaneras
1/2 cup sugar
2 tablespoons water
1/4 cup all-purpose cream
1/4 cup semisweet chocolate, chopped
1/8 teaspoon salt
1/2 teaspoon vanilla extract
8 large egg yolks
1/2 cup condensed milk
1 1/2 cups evaporated milk
1 Prepare a steamer. Set aside 2 llaneras.
2 Make the Chocolate Caramel: In a saucepan, add sugar and water. Place over medium heat. Let stand until edges begin to melt and brown, then swirl the pan, away from the heat as needed to prevent burning, to completely melt the remaining sugar and lightly caramelize. Remove from heat and pour in cream (mixture will bubble so be careful.) Stir to mix the cream and sugar. Once the bubbling has stopped, stir in chopped chocolate, salt, and vanilla. Pour a layer of the caramel into the llaneras. Set aside.
3 In a large bowl, whisk egg yolks and condensed milk until well blended. Pour in evaporated milk. Stir until smooth. Pass through a sieve to remove any lumps.
4 Pour into caramel-lined tins. Remove or pop any bubbles that form on the surface of the flan mixture. Cover with foil then place in the prepared steamer. Steam until set, around 30 minutes.
5 Remove from the steamer. Let cool until the leche flan is warm to the touch. To serve, run a knife around the edges of the flan to loosen. Place the serving plate over the flan then flip tin and plate over. Remove tin and serve immediately. Best served warm.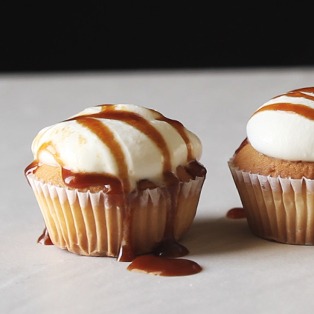 WATCH: How to Make Caramel Sauce
Posted in:
Baking
ADVERTISEMENT - CONTINUE READING BELOW
Recommended Videos