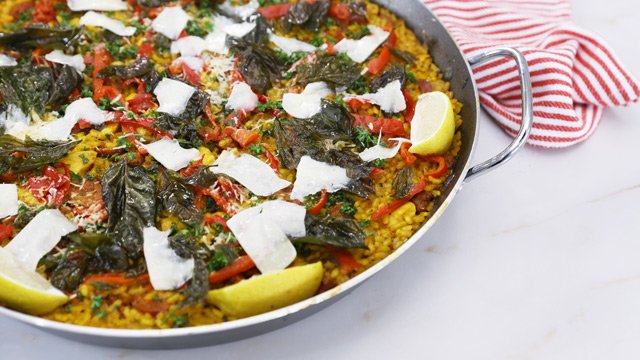 Impress your friends and family with a chorizo paella that is packed with flavor. This rice dish has everything: chorizo, chicken, pimiento, cheese, and more.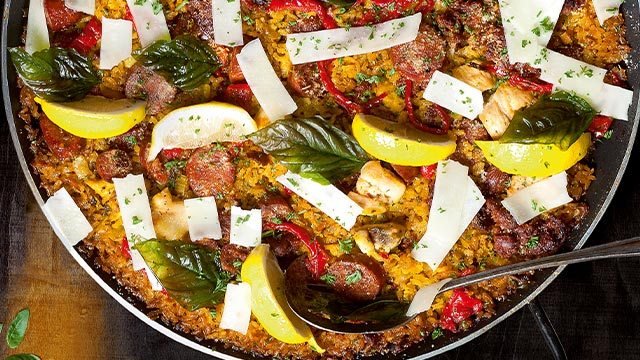 Chorizo-Cheese Paella Recipe
Posted in:
Recipe
Once all the ingredients have been sautéed and stock has been added, there are two ways to cook this paella: you can cover it with foil and let it simmer on the stovetop for 30 minutes, or you can bake it in an oven set at 350°F for 45 minutes.
Chorizo Paella Recipe
Makes 12 servings
1/2 cup olive oil, divided
2 tablespoons garlic, minced
150 grams chistorra sausage, casings removed and crumbled
2 chorizo de Pamplona, sliced into rounds
1 210-gram can chorizo de Bilbao, sliced into rounds
2 medium white onions, chopped
3 medium tomatoes, chopped
500 grams chicken breast fillets, cubed
3 cups Spanish Bomba rice
2 cubes chicken bouillon, crushed
2 teaspoons Spanish paprika
2 teaspoons paella seasoning, we used Paellero
1 teaspoon Italian seasoning
2 teaspoons fresh basil leaves, chopped
6 cups chicken stock
1/2 cup dry white wine
Salt and pepper, to taste
1 8-ounce can pimiento, sliced into strips
3 tablespoons parsley leaves, chopped
3 tablespoons Parmesan cheese, grated, plus 50 grams sliced into strips
Fried basil leaves, to top
1-2 lemons, sliced into wedges
1 Heat 3 tablespoons oil in a 16-inch paella pan. Add garlic and sauté until fragrant. Add sausage and chorizo, and fry in batches (one type per batch). Set aside.
2 In the same pan, heat remaining oil. Sauté onions and tomatoes until tender.
3 Add chicken and fry for 3 to 4 minutes.
4 Add rice, seasonings, and basil. Mix well.
5 Add chorizo mixture, stock, and wine. Season to taste with salt and pepper. Boil for 3 minutes. Cover with foil and a let simmer on low heat for 30 minutes.
6 Remove from the heat and top with cheese strips. Allow to rest, covered, for 10 minutes. Top with lemons and fried basil leaves. Serve hot.
ALSO WATCH: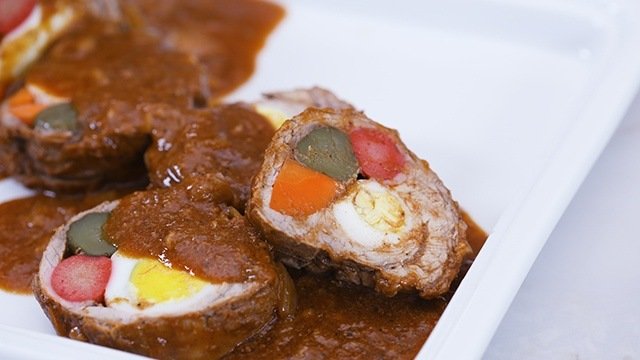 WATCH: How to Make Beef Morcon
Posted in:
Cooking
ADVERTISEMENT - CONTINUE READING BELOW
Recommended Videos