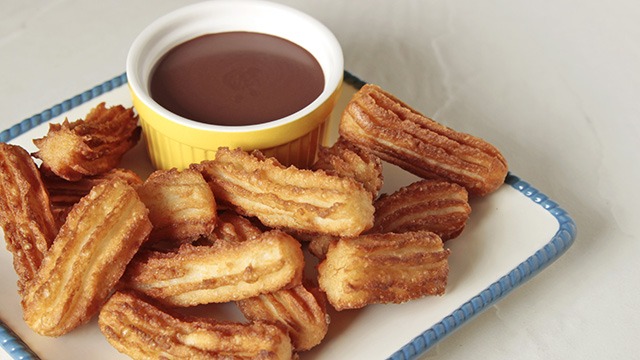 Churros, the classic Spanish deep-fried dough with a chocolate dipping sauce, is a popular hearty snack you can make at home!
 
For the chocolate:
1/2 cup heavy cream
1/4 cup fresh milk
3 ounces bittersweet chocolate, chopped
pinch of salt
 
oil for deep-frying, plus 2 tablespoons, divided
1 cup water
2 tablespoons milk
1 tablespoon sugar
1/4 teaspoon salt
1 cup all-purpose flour
1 Make the chocolate: Bring cream and milk to a boil in a small saucepan. Once boiling, remove from heat and pour over chopped chocolate in a medium bowl. Let sit, undisturbed, for 1 minute. Stir chocolate mixture until smooth and creamy. Add salt and stir again. Set aside.
2 Pour oil into a deep pan until about 2 inches deep. Heat oil to 375F.
3 In another saucepot, bring water, milk, sugar, salt, and 2 tablespoons oil to a rolling boil. Remove from heat and add flour all at once. Keep stirring until dough is smooth and forms into a ball without lumps. Let cool slightly to make piping easier. 
4 Fill a piping bag fitted with a star tip. Squeeze piping bag over a baking sheet lined with parchment paper, making strips or shapes.
5 Deep-fry churros until golden. Drain on paper towels. Serve with chocolate.