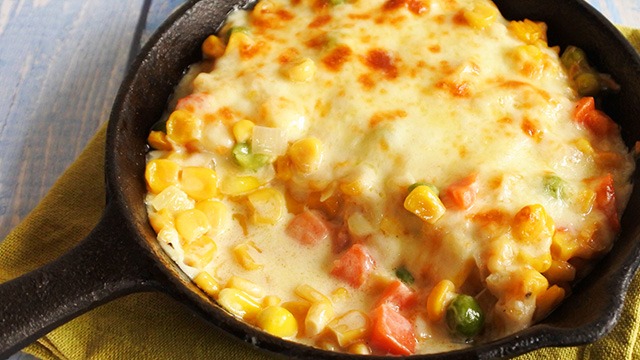 This creamy corn cheese recipe is considered a Korean banchan or side dish for samyupsal or Korean barbecue. 
This is a simple buttered corn recipe that's been upgraded into something that's just irresistible. It's all thanks to the gooey melted mozzarella cheese that's piled on top of the creamy and buttery corn. This would be perfect as is but we went a few steps further to make sure this is super flavorful. We didn't just add mixed vegetables with the corn but we also added grated Parmesan cheese to the creamy mayo. Corn, butter, mixed veg, mayo, and two kinds of cheese make this even better. 
Feel free to leave out the mixed vegetables and just use two cans of corn. You can also swap the Parmesan cheese for cheddar cheese or leave it out for a more classic corn cheese recipe. (We just highly recommended it because it tastes like this delicious grilled corn recipe.)     
Serve it as is in the small cast iron pan or as part of your samyupsal dining experience at home. Here's the recipe: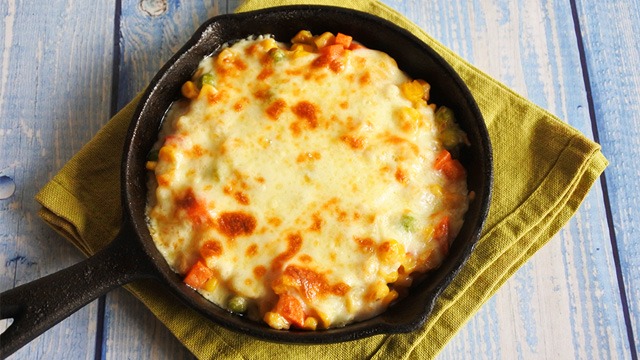 Corn Cheese Recipe with Mixed Vegetables
Takes 20 minutes
Makes 4 to 6 servings
2 tablespoons salted butter
1 small white onion, chopped
1 cup mixed vegetables, thawed
1 425-gram can sweet kernel corn, drained
1/4 cup mayonnaise
1/4 cup Parmesan cheese
1 tablespoon water
1 190-gram block mozzarella cheese, grated, divided
Salt, to taste
1 In a frying pan over medium heat, melt butter. Add onion and sauté until just translucent. Add mixed vegetables and cook until heated through.
2 Add corn. Mix and cook until heated through.
3 Turn off the heat, and stir in mayonnaise and Parmesan cheese. Add a little water if the mixture is too thick.
4 Remove from the stove. Transfer and divide the corn mixture into 2 6-inch cast iron pans. Top each with about 1 cup mozzarella cheese.
5 Broil on the top rack in an oven toaster set at 400 degrees F or 205 degrees C for about 4 minutes or until the mozzarella is melted and begins to turn golden brown.
6 Remove from the oven and serve while hot.
***
Thinking about what to cook next? Join our Facebook group, Yummy Pinoy Cooking Club, to get more recipe ideas, share your own dishes, and find out what the rest of the community are making and eating!
Got your own version of the classic dishes? Pa-share naman! Get your recipe published on Yummy.ph by submitting your recipe here.