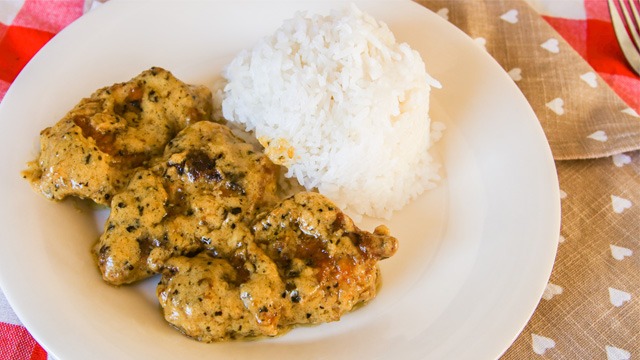 If you want an ulam recipe that is loaded with intense flavor, you need to try a pesto dish. Pesto is an Italian sauce made by grinding or pounding into a paste these ingredients: basil leaves, pine nuts, garlic, olive oil, and Parmesan cheese. It's a super flavorful ingredient that easily transforms a dish from bland to delicious just by mixing it in. 
This is the ingredient that makes this creamy chicken recipe so decadent as well as appetizingly irresistible. Flavor-packed chicken thighs are simply fried in a little butter in the pan before the pesto sauce is created. This technique of using the same pan to create the sauce to pair with pan-fried food is a common one, and it's what makes sauces even more delicious. The sauce not only is infused with the ingredients you add to create it but also the browned bits from the chicken that you cooked earlier in the same pan. 
The result is a sauce that really is the perfect match for your pinaritong ulam. This is served with steamed rice just because it's delicious as ulam. However, you can easily serve this tossed with some freshly cooked pasta, too. Just chop up the chicken and place it on top before serving. 
You can't get more versatile than this recipe! 
Learn how to make this delicious creamy chicken recipe with a pesto cream sauce by following along with the video and reading the full recipe here: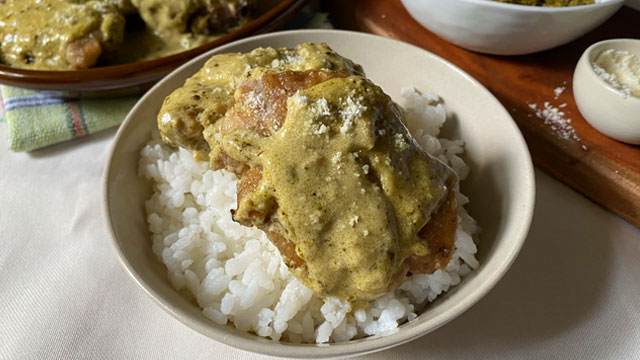 Creamy Chicken Pesto Recipe
Posted in:
Recipe
Love chicken? Love pesto? Here are more ideas about chicken and pesto that you can use to make more delicious ulam recipes: 
***