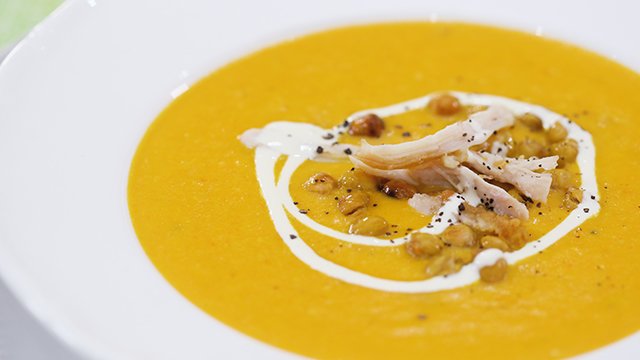 This hearty soup combines carrots, corn, and chicken for a comforting feel-good dish. We used the hot and cold blender of Cuisinart (you can actually cook in it!) to make prep work easier.
Creamy Chicken Soup
Takes 30 minutes
Makes 4 servings
 
2 large carrots, peeled, roughly chopped
3 cups water
1 1/2 chicken bouillon cubes  
1/4 cup butter
1/4 cup all-purpose flour
1/2 cup whole milk
1/2 cup whole corn kernels
1/2 cup chicken, shredded
Salt and ground black pepper, to taste
Cream, to serve
Chickpeas, to serve
 
1 In the jug of the Cuisinart Hot and Cold Blender, add carrots and enough water to cover. Turn on blender and heat until boiling. Simmer carrots until tender. Transfer carrots and its water to a large bowl. Remove carrots from the bowl, and set aside. Add bouillon cubes to the remaining hot water, and set aside to dissolve.
 
2 Meanwhile, clean out jug of the blender. Place back on the blender base, and add butter. Turn on blender, and heat on Low to melt butter. Add flour and stir until dissolved, about 1 minute. Add milk and chicken stock; mix well. Bring to a boil then lower heat and simmer until thick, about 6 minutes.
 
3 Once your soup base is thick, add carrots and whole corn kernels. Whiz in the blender until smooth. Stir in shredded chicken. Simmer again until warmed through, about 2 minutes. Season to taste with salt and pepper.
 
4 Ladle into soup bowls and top with all-purpose cream and crispy chickpeas (roast chickpeas in the toaster oven with olive oil, salt, and pepper for about 20 minutes).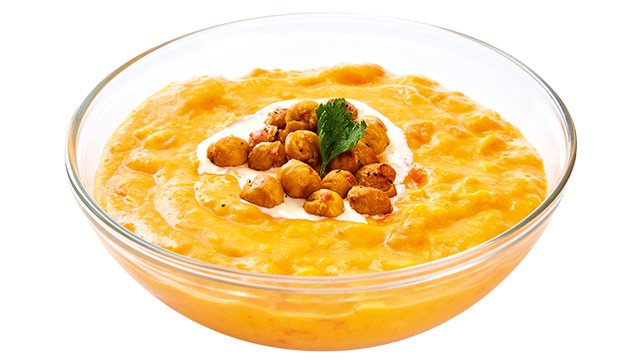 Creamy Chicken Soup Recipe
Posted in:
Recipe
ADVERTISEMENT - CONTINUE READING BELOW
Recommended Videos