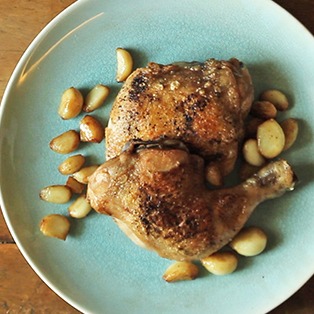 Pan-frying chicken is simple — and the dish that you end up with will be comforting, tasty, and easy to prepare. Get the basics right and you'll get moist, tender chicken meat with satisfyingly crunchy skin.
The secret to getting that crispy skin is to place the chicken skin side down on the pan. It's a perfect way to render down the fat in the skin while avoiding shrinkage. Start with medium high heat for browning that skin, and then adjust to medium heat when you flip your chicken to avoid the meat from drying out. A useful kitchen tool for pan-frying is a pair of tongs to help flip chicken safely and neatly.
Remember to use a heavy-bottomed pan for even heat distribution, and make sure that both your pan and the oil in it are hot before frying your chicken. A neutral tasting frying oil with a high smoke point, such as vegetable oil or canola oil, will work best with the high temperatures in preparing this dish.
Also, it is important to remember to fry in batches. Overcrowding you pan will create steam and you will lose your chances of getting that crispy chicken skin!
ALSO READ:
How to Cook the Best-Tasting Fried Chicken
Crazy for fried chicken? CLICK HERE for more recipes.