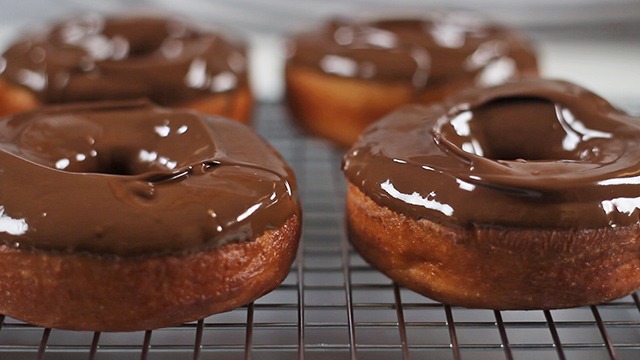 This recipe for basic yeasted pillowy doughnuts is easy. It's the perfect canvass for your preferred glaze.
3 teaspoons instant yeast
1/4 cup melted unsalted butter
1 Place 3 cups bread flour, 1 teaspoon salt, ½ cup sugar, and 3 teaspoons instant yeast in a large bowl, making sure that the salt and yeast do not touch. Mix well and set aside.
2 Mix together 1 cup fresh milk, ¼ cup melted unsalted butter, and 1 large egg (beaten) in another bowl. Make a well in the center of the flour mixture and pour in milk mixture; mix until no dry ingredients remain. Let it sit, covered, for 10 to 15 minutes to let the flour absorb the liquid.
3 Knead dough for 15 to 20 minutes, or until surface is smooth and taut. (You can use an electric mixer with the hook attachment on medium-low speed.) Cover with plastic wrap; set aside in a warm spot for 1 hour, or until dough has doubled in size.
4 Punch down dough to release air, place on a floured work surface, and roll out until ½ inch thick.
5 Using a 3-inch round cutter and a ½-inch cutter for the holes, stamp out doughnuts. Reroll any excess. Place on a tray lined with greased parchment paper, cover, and allow to rise for 30 to 45 minutes or until double in size.
6 In a medium heavy bottomed pot, heat 3 inches peanut oil to 375°F. Fry doughnuts in batches until golden brown, about 1 to 2 minutes per side. Drain on paper towels. Let cool for 15 minutes before glazing.
ADVERTISEMENT - CONTINUE READING BELOW
Recommended Videos