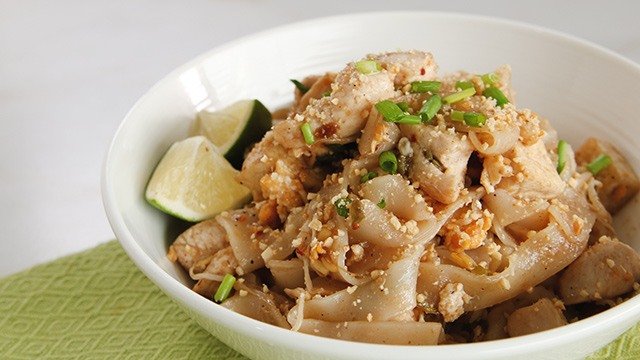 This Pad Thai recipe is a simple version of the popular Asian stir-fried noodle dish. Make it a complete meal by adding tofu and chicken then serve it with crushed peanuts and lime wedges.
100 grams rice noodles
¼ cup tamarind paste
4 tablespoons brown sugar
2 tablespoons fish sauce (patis)
1 tablespoon oil
2 cloves garlic, chopped
¼ cup tofu, cut into cubes
300 grams chicken breast fillet, cut into cubes
¼ cup mung bean sprouts (togue)
3 tablespoons spring onion, cut into 2-inch pieces
Salt and pepper, to taste
1 egg
1 teaspoon chili flakes
1 tablespoon peanuts, crushed
lime wedges
1 Place noodles in a bowl and soak in hot water for 15-20 minutes.
2 Make the pad Thai sauce: In a small bowl, mix together tamarind paste, brown sugar, and fish sauce. Mix until sugar dissolves. Set aside.
3 Heat oil in a pan over medium-high heat. Add tofu making sure to turn and cook all sides. Add chicken and garlic. Mix until chicken is cooked, about 2-3 minutes. Season with salt and pepper.
4 Toss in cooked noodles, pour pad Thai sauce and continue mixing. Add bean sprouts and spring onions. Toss to combine.
5 Make a well in the center and add egg. Cook for about 30 seconds until egg is cooked, then toss with the noodles.
6 Transfer Pad Thai t a serving plate. Top with peanuts and spring onions. Serve with lime wedges.